Bank Stocks in U.S. Look Safer Than Gold to Jefferies Strategist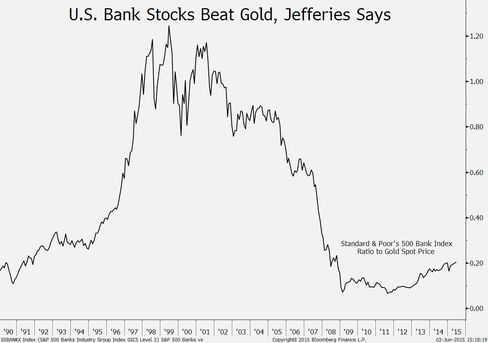 U.S. bank stocks are in the midst of a rebound relative to gold that might just be getting started, according to Sean Darby, Jefferies Group Inc.'s chief global equity strategist.
The attached chart displays the ratio of the Standard & Poor's 500 Banks Index to the price of the metal for immediate delivery, according to data compiled by Bloomberg. Darby had a similar chart in a report two days ago.
Both the S&P index and the ratio rose yesterday to the highest levels since 2008. Bank stocks followed the course of bond yields, which climbed in the midst of a debt-market rout. Higher yields may enable lenders to generate more income from loans and bond purchases.
"Real rates remain positive," Darby wrote in referring to inflation-adjusted interest rates, which benefits the banks. The 10-year Treasury note's yield as of yesterday was 2.37 percent, surpassing a 1.8 percent increase in consumer prices excluding food and energy for the 12 months ended in April.
Banks in the U.S. are a more promising investment than North American gold-mining companies as well as the precious metal that they produce, the Hong Kong-based strategist wrote.
The S&P 500 Banks Index rose 15 percent from this year's low, set on Jan. 15, through yesterday. The Philadelphia Gold and Silver Index, dominated by U.S. and Canadian mining stocks, fell 10 percent in the same period. Spot gold slid 6.1 percent.
Before it's here, it's on the Bloomberg Terminal.
LEARN MORE