Bain-Backed Toys 'R' Us New CEO Eligible for $50 Million in Cash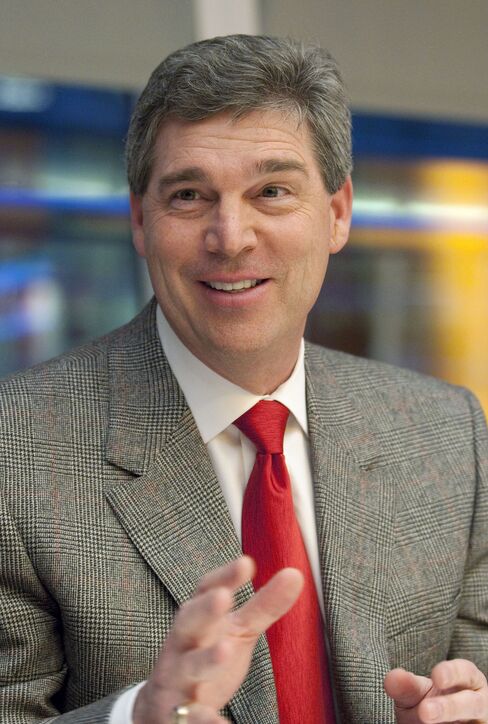 Toys "R" Us Inc.'s new Chief Executive Officer David Brandon could get about $50 million in cash after he takes over the Bain Capital Partners-backed chain July 1.
Brandon will receive a base salary of $3.75 million, a targeted annual bonus of $4.5 million and a one-time bonus of $4.25 million, according to a filing today from the Wayne, New Jersey-based company. He could also receive two payments of about $18.8 million if the company achieves certain earnings goals during the three fiscal years through January 2018, the filing shows.
Toys "R" Us was taken private in 2005 by Bain, KKR & Co. and Vornado Realty Trust in a deal valued at $6.6 billion. Brandon, 63, ran Domino's Pizza Inc. for 11 years and helped shepherd the chain, then owned by Bain, through the largest initial public offering in restaurant history in 2004. He left Domino's in 2010 to become athletic director for the University of Michigan.
Kathleen Waugh, a spokeswoman for Toys "R" Us, didn't immediately respond to calls and an e-mail seeking comment.
Brandon, whose annual bonus could be pro-rated for fiscal 2015, also will receive 2.81 million stock options. The long-term cash bonus is dependent on the company achieving $600 million in adjusted earnings before interest, taxes, depreciation and amortization minus average capital expenditures during the three-year period, according to the filing.
The toy chain abandoned an IPO in 2013 and has posted revenue declines during the past three holiday seasons, its biggest sales period.
Before it's here, it's on the Bloomberg Terminal.
LEARN MORE