Which U2 Song Is This Market? Hint: Not 'Beautiful Day'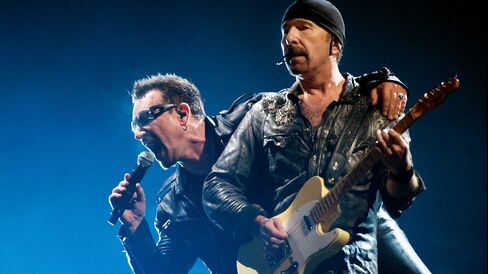 Sure, quantitative models and correlation studies are fun and all, no one can argue they aren't.
But any Wall Street strategist who's been around a while knows that if you really want to make a name for yourself in this business, you need to come up with a catchy rock song to describe the current state of play in the markets.
That's why Dan Greenhaus of BTIG labeled a Sunday report on the upcoming week of important data and policy events "Eminence Front" after The Who's 1980s comeback headbanger, and his Bangles-inspired report the following day "Walk (And Raise Money) Like an Egyptian." Morgan Stanley's Adam Parker last year dipped into the Top 40 -- risky ground for middle-aged strategists! -- with a report about his base-case scenarios with a nod to Meghan Trainor's club banger "All About That Bass." Nick Colas at ConvergEx is so good at this that there are too many examples to cite.
This leads us to this morning, when Charles Schwab Corp. chief investment strategist Liz Ann Sonders absolutely nailed the tone of current stock market trends by quoting a U2 song to Tom Keene and Brendan Greeley on "Bloomberg Surveillance."
Which U2 song was it, you ask? Well, in the interest of building suspense -- not to mention stretching this topic into a feature-length column -- let's start with some possible contenders. Oooh, we could even make it a quiz like they do on Buzzfeed!
So here are your choices:
a) "Beautiful Day." This would be the obvious choice of the bulls. After all, ADP just reported that 201,000 people were added to payrolls last month, which may signal a rebound in manufacturing. Also, there's all that M&A and the housing and construction markets are heating up, so like Bono sings in this song: "no space to rent in this town." Nevermind some of the other lyrics are a bummer: "See the tuna fleets clearing the sea out. See the Bedouin fires at night. See the oil fields at first light." Although maybe that's bullish for crude, hard to say.
b) "With or Without You." This could pretty much serve as the theme song for the neverending soap opera involving Greece and the euro currency bloc. Just about every lyric works. Alexis Tsipras could sing "She (Angela Merkel) has got me with nothing to win, and nothing left to lose." And who couldn't picture Wolfgang Schaeuble crooning: "You gave it all, but I want more. And I'm waiting ... for ... you."
c) "Running to Stand Still." Not exactly one of U2's greatest hits, this is a beautiful, simple song from the "Joshua Tree" album. The stock market, too, is running to stand still: the spread between the highest and lowest close in the S&P 500 this year is only 6.9 percent. That's the tightest range year-to-date since 2006, according to a nifty spreadsheet from Bloomberg guru Lu Wang. The average range for the years in between has been 15.6 percent. (Adds Lu: "This is purely my weird fixation on numbers, but if we narrow the study range to 40 days: narrowest since 1995." Hey, you do you, Lu!)
Note: This song -- like many great rock songs -- is reputedly about heroin addiction. So maybe it's applicable on another level to the market junkies trying to wean themselves off quantitative easing and low interest rates: "You know I took the poison, from the poison stream. Then I floated out of here."
d) "Elevation." Another one for the bulls! This is the song that inspired the name of private-equity firm Elevation Partners. So maybe it's time for the buyout shops to start snapping up public companies in earnest and lift this market high, higher than the sun, so high, elevation?
e) "Vertigo." Self explanatory. For the bears and anyone uneasy about the fact this market hasn't had a genuine correction since 2011.
ANSWER: Well, if you guessed "all of the above," who knows, maybe you're right. But that wasn't one of the choices! Sonders's song of choice for this market was "Running to Stand Still."
And she's a Blue Hen, so you know you can trust her.
Before it's here, it's on the Bloomberg Terminal.
LEARN MORE