Ukraine Offensive Rekindles Sanctions Threat as Ruble Stumbles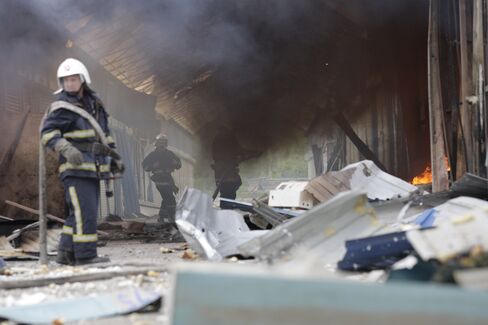 A sudden military build-up by pro-Russian rebels in eastern Ukraine has investors taking another look at the sanctions risk for Russian assets.
The ruble fell the most in more than six weeks and yields on five-year government bonds climbed to one-month highs after Ukraine's military said Wednesday that separatists attacked the Donetsk-region town of Maryinka. The currency slid another 1.3 percent to 55.038 by 1:17 p.m. in Moscow.
The rising tensions jeopardize a three-month truce between rebels and the government in Kiev and escalates risks before a European Union meeting later this month to review penalties imposed on Russia for its role in the conflict.
"It's negative for both the ruble and Russian bonds," Paul McNamara, who helps oversee $6.3 billion as a money manager at GAM UK Ltd. in London, said by e-mail on Wednesday. "It makes the extension of European sanctions more likely."
Along with the recovery in the price of crude this year, the truce reached in Belarus in February led many investors to return to Russian assets with the view that sanctions blocking companies from global capital markets wouldn't get worse. The ruble jumped to as strong as 48.83 per dollar in May, the highest in almost six months.
Sanctions Threat
The violence on Wednesday risks altering that equation. While the Ukrainian military said the attack involved as many as 1,000 personnel, more than 10 tanks and howitzers, the rebels said they were halting an assault by the army. Five Ukrainian soldiers have been killed and 39 wounded in the last 24 hours, Yuriy Biryukov, Ukrainian presidential military adviser, said on Facebook on Thursday.
"Any sign of an escalation of the conflict in Ukraine is going to cause concern in the Russian markets," William Jackson, an analyst at Capital Economics Ltd. in London, said by phone on Wednesday. "It increases the likelihood that sanctions may be renewed or extended."
Even though it's still up 11 percent this year, the most worldwide, the ruble remains 35 percent weaker since Russia's incursion into Crimea started in March 2014.
The nation's assets came under pressure in the past month as the central bank and government purchased dollars in a move analysts said aimed at stemming a rally that was curtailing export revenue as Russia seeks to bridge a fiscal deficit. The price of Brent crude in ruble terms climbed to 3,517 a barrel today, about 1.4 percent below the 12-month average.
Selloff Trigger
Any flare up in Ukraine will add to selling pressure, according to Dmitry Dudkin, the head of fixed-income research at UralSib Capital.
Ukrainian Prime Minister Arseniy Yatsenyuk reiterated allegations that Russia is engineering the unrest and supplying the rebels, who've previously threatened to expand the areas they control. Russia denies involvement.
Local government bonds known as OFZs have handed investors losses of 3 percent in June, the most in the Bloomberg Emerging Market Local Sovereign Index. That clipped their returns this year to 35 percent, the biggest among developing economies.
Yields on five-year bonds rose 21 basis points to 11.21 percent today, the biggest increase since April 20.
"The violence in Ukraine could definitely become a trigger for a selloff of Russian debt," Dudkin said by e-mail on Wednesday. "Those investors who entered the market in February-March won't wait for any formal decisions and speculative capital will once again start leaving Russian assets."
Before it's here, it's on the Bloomberg Terminal.
LEARN MORE