The Man Who Got Away Ate Breakfast as Police Raided FIFA Hotel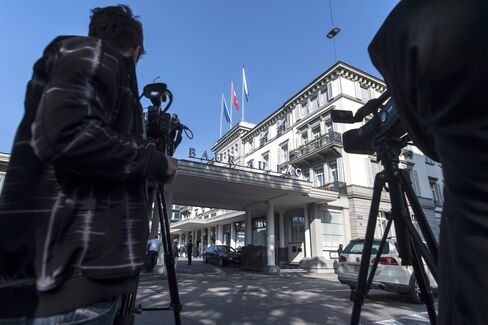 At 6 a.m. on May 27, Swiss police swept into Zurich's Baur au Lac hotel quietly rounding up world soccer officials. About an hour later, Alejandro Burzaco tucked into his morning meal at the five-star hotel's restaurant.
Burzaco was apparently unaware that he'd just slipped through an international dragnet that would rock the world of organized soccer, according to a senior official with FIFA who was also at the breakfast.
By the end of the morning, the U.S. Justice Department would reveal that Burzaco, an Argentine who is controlling principal of the sports-marketing company Torneos y Competencias SA, had been indicted in the corruption case involving FIFA.
Police may have had no way of knowing Burzaco, 50, was there. At the hotel on May 28, reception and reservations workers said by telephone that they had no record of anyone with Burzaco's name being a guest at the Baur au Lac, neither then nor the day of the arrests.
Yet there he was, eating his meal at Baur au Lac's breakfast room, which looks out on a private hotel park, Lake Zurich and the Alps beyond. By night, the space is a Michelin-starred restaurant.
During the raid, the Swiss police wielded green folders containing names of people whose arrests were sought. By the time they had finished their work, police had detained seven men, most of whom were at the hotel. In all, the Justice Department indicted 14. FIFA President Sepp Blatter said Tuesday he will step down in the wake of the Justice Department's corruption probe.
Torneos y Competencias said in a statement last week that it denied the U.S. accusations concerning the involvement of the company or Burzaco in alleged corruption related to FIFA.
Wanted-Person Alerts
On Wednesday, Interpol issued wanted-person alerts for Burzaco and five other soccer executives for charges including racketeering, conspiracy and corruption. The so-called "Red Notice" is a way the international police organization alerts members that arrest warrants have been issued.
The U.S. has also asked Argentina to arrest and extradite Burzaco and two other of its indicted nationals.
On social media, his last traces put him on track for breakfast in Zurich the day of the raid. On May 26, he posted a Twitter message in Spanish that said: "In London: heading to Zurich; to FIFA World."
Sprawling Indictment
Burzaco is named in the sprawling U.S. indictment as being part of a group that paid kickbacks to secure rights to South America's most prestigious international competition, the Copa America. His group agreed to pay $110 million in bribes to secure rights to four editions of the competition starting with this month's event in Chile, according to U.S. prosecutors.
"All can get hurt because of this subject," Burzaco said to the others after a 2014 Miami news conference to announce a special centenary version of the event to be staged in the U.S. in 2016, according to the indictment. "All of us go to prison."
Interpol's wanted person alerts also included a former FIFA vice president and the ex-head of South American soccer. Nicolas Leoz, the 86-year-old who once led South America's Conmebol, is under house arrest in Paraguay, pending extradition to the U.S.. Jack Warner, the Caribbean official who ran the North and Central America soccer body like a private fiefdom, posted bail after being arrested in Trinidad.
Before it's here, it's on the Bloomberg Terminal.
LEARN MORE