SoftBank's Coupang Stake Said to Value It at $5 Billion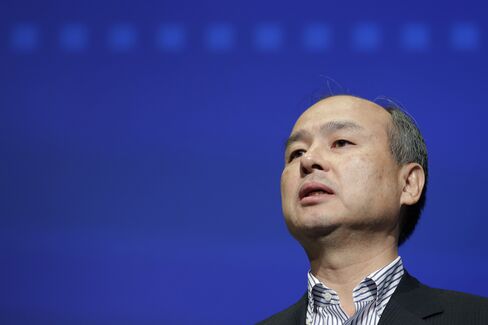 SoftBank Corp.'s investment in Coupang values the South Korean online retailer at about 5.5 trillion won ($5 billion), according to a person with direct knowledge of the matter.
The valuation follows SoftBank's agreement to invest $1 billion in Coupang, the person said, asking not to be identified because they aren't authorized to talk publicly. The deal will close at the start of July, SoftBank said in a statement Wednesday without disclosing a valuation.
SoftBank, led by billionaire Masayoshi Son, has been looking to replicate the success of its investment in Alibaba Group Holding Ltd., which started with a $20 million stake 15 years ago. That is now worth $72 billion, helping Japan's second-richest man conclude deals with India's Snapdeal.com and Indonesia's Tokopedia.
"This is one of the ways to become the No. 1 Internet company in the world," said Tomoaki Kawasaki, an analyst at Iwai Cosmo Securities Co. "Consumption of e-commerce is increasing in the world, and SoftBank will make similar investments in other regions."
The company, which is Japan's third-largest wireless carrier, will buy new shares issued by Coupang, said Mitsuhiro Kurano, a spokesman at SoftBank. The company declined to disclose the percentage of Coupang's shares it will own after the purchase. Coupang declined to comment on its valuation in an e-mail.
SoftBank gained 0.7 percent to 7,486 yen as of 9:00 a.m. in Tokyo trading, compared with a 0.2 percent gain in the benchmark Topix. The shares have risen 3.9 percent this year, trailing the index's 19 percent gain.
Internet Stakes
Nikesh Arora, vice chairman of SoftBank, joined the board of Coupang last month and will continue as a director, the company said.
Son said previously he plans to take stakes of 30 percent to 40 percent in Internet companies based in Asia as he seeks to follow up his success with Alibaba. SoftBank already has stakes in about 1,300 companies, including about 32 percent of Alibaba.
"This isn't going to be next Alibaba for SoftBank, given the size of the Korean market," said Amir Anvarzadeh, a manager of Japanese equity sales at BGC Partners Inc. in Singapore. "Snapdeal, on the other hand, could be."
Coupang raised $300 million in funding, which increased its valuation to more than $2 billion, a person familiar with the deal said in December. The company had more than 2,000 employees and offices in Korea, Shanghai, Seattle, Silicon Valley and Los Angeles, it said at the time.
Coupang isn't looking at an initial public offering, Chief Executive Officer Bom Kim said in March.
Mobile sales account for more than 75 percent of Coupang's revenue. The company competes with sites such as Ticket Monster, which is owned by Groupon Inc., KKR & Co. and Hong Kong-based Anchor Equity Partners.
Backers of Coupang have included Sequoia Capital Global Equities, Greenoaks Capital Management, Rose Park Advisors, Maverick Capital, LaunchTime, Altos Ventures, Bill Ackman and Clay Christensen.
Before it's here, it's on the Bloomberg Terminal.
LEARN MORE