Scene Last Night: Black, Och, Rockefeller, The Weeknd, Kravis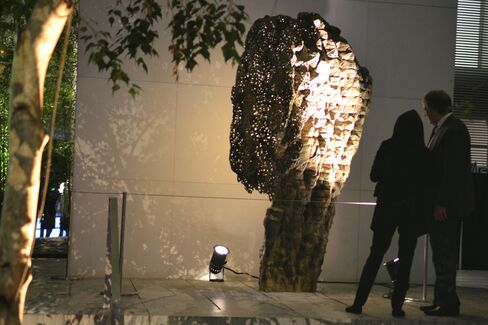 A young crowd awaited The Weeknd in the sculpture garden of the Museum of Modern Art Tuesday night when Leon Black popped out from a more mature dinner indoors with his wife, a scarf over her head as the rain fell.
As tarps were lifted off keyboards and amps at the museum's Party in the Garden, the Blacks paused in front of "Bent Lace" by Ursula von Rydingsvard, whom Black had chatted with earlier. Lit dramatically in the darkness, the bronze sculpture resembled a giant with a jagged, puffed-out chest and an arm extending like a waterfall of lace.
Black put his arm around his wife on the marble paving and turned to face the swelling junior set in baseball caps and stilettos. They looked for their daughter, gave up and headed back inside -- Debra Black taking off her scarf, unveiling still-perfect hair and very sparkly earrings.
Picasso's "She-Goat" was left to guard the after-party, which was punctuated by The Weeknd, fellow Torontonian Drake's alt-R&B protege, crooning "Earned It," his hit from "Fifty Shades of Grey."
A few people had "earned it" -- that is, recognition in front of guests -- during the course of the benefit, which raised $4.38 million.
At quarter to nine, Marie-Josee Kravis, the museum's president, came to the microphone with the news that earlier in the day, the board had elected Black co-chairman, joining Jerry Speyer. Calling Black a "knowledgeable" and "passionate collector," she joked that the head of Apollo Global Management was "laid-back" like her husband, Henry Kravis, of KKR & Co. Among those who laughed: Blackstone's Steve Schwarzman. Black's appointment is effective July 1.
Sculpture Shopping
Standing under Michel Majerus's painting "what looks good today may not look good tomorrow," from the year 2000, Kravis said a committee recently approved the acquisition of the Richard Serra sculpture "Equal," which she called the "archetype" of his work about mass, material and space, as well as three sculptures by Kara Walker that attended her "Sugar Baby" at the Domino Sugar building last year. Such news is quite a way to be honored at a gala, which both artists were.
The evening was also a celebration of David Rockefeller Sr.'s 100th birthday, which is on June 12. Kravis spoke of enjoying martinis with the former chief executive of Chase Manhattan, who grew up in a townhouse where the museum's Sculpture Garden is located. She praised him as an "internationalist, in his friendships, in his collecting, in his businesses."
Birthday Cake
In Rockefeller's honor, the Harvard Krokodiloes sang "Happy Birthday" and "For He's a Jolly Good Fellow" a cappella, right before the centenarian blew out a candle on a sheet cake decorated with a scene of his boat, the Sea Smoke.
Rockefeller had made his way through the party with gusto, which included navigating the crowd gathered at the museum's restaurant, The Modern, taken over by Glorious Food catering's waiters for the benefit evening.
Among the guests: NFL Commissioner Roger Goodell, new Brooklyn Museum director Anne Pasternak, MoMA trustee Anne Dias Griffin, artist Sarah Sze, Carnegie Corp.'s Vartan Gregorian and architect Deborah Berke, who designs the 21c Museum Hotels. Steve McQueen chatted with MoMA Director Glenn Lowry.
Biennale and Bitcoins
For the dinner, Rockefeller sat between his granddaughter, designer Ariana Rockefeller, and his daughter-in-law Susan. One table over, Dan Och listened attentively to Sandy Heller. Black sat next to Kathy Fuld, wife of Richard Fuld, at another table. Nearby, David Zwirner was next to the architect of his Chelsea gallery space, Annabelle Selldorf.
Closer to where the information desk usually stands, Larry Gagosian had Leonard Riggio at his side, while at another table Cindy Sherman and Brice Marden formed a sandwich between Ronald Lauder, with Jeff Koons, Richard Parsons and Eric Zinterhofer all a few seats down.
There was talk of what's next. Amy Cappellazzo, the Christie's executive turned founder of Art Agency Partners, said she'll be going to the Venice Biennale twice ("everything looks better in Venice,'' she said). Paola Antonelli, senior curator in MoMA's department of architecture and design, said she'll be giving a talk at the MIT Media Lab on "knotty objects": bitcoin, steak, brick and foam. (They're ''knots of science and design and culture,'' she said.)
Will Cotton, known for his paintings of cake, is preparing for an exhibition in Aspen.
Speaking of cake: dessert was birthday cake with Maine blueberries and blueberry ice cream, in honor of Rockefeller's family retreat.
Before it's here, it's on the Bloomberg Terminal.
LEARN MORE