Saxo CEO Dismisses 'Opportunistic' Clients Trading Swiss Franc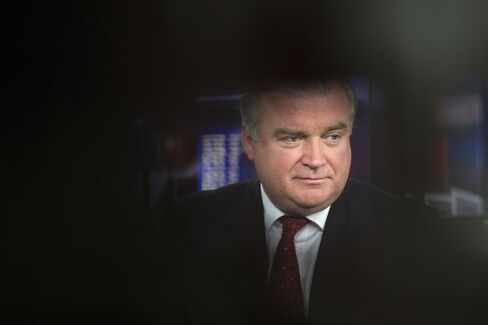 Almost five months after Switzerland threw currency markets into a panic, Saxo Bank A/S says clients who lost money trading the franc need to acknowledge their own mistakes and move on.
The Swiss National Bank's Jan. 15 decision to send the franc into a free float will result in a loss as big as $107 million for the Danish broker bank. Saxo has been criticized by some clients for retroactively adjusting franc prices. But the co-chief executive officer, Lars Seier Christensen, says anyone planning to sue the bank is misguided.
"This was a unique situation triggered by an irresponsible central bank," Christensen said in a phone interview. "Of course some people are opportunistic and try to find other explanations."
The Swiss National Bank has said it had little choice but to abandon the franc's cap to the euro after currency interventions became too costly.
Saxo is suing 12 clients in Singapore it says are liable for their losing currency trades, seeking $7.62 million in total. The clients have countersued, saying their losses were caused by Saxo Capital Markets Pte's arbitrary and retrospective repricing of trades, according to a joint complaint filed in the Singapore High Court.
In a letter to the Danish regulator dated Feb. 9, Saxo said it was trying to avoid being sued when it continued accepting Swiss franc orders after the market froze on Jan. 15. The bank said it was concerned that blocking franc orders in the moments after the Swiss National Bank abandoned its euro cap would leave it open to litigation by clients eager to adjust their positions.
New Prices
Saxo continued accepting orders, but then told clients in e-mails seen by Bloomberg it would execute their trades at less favorable prices than those initially shown. The bank published a list of those prices some 12 hours later.
"The truth is that the market was what it was," Christensen said. "It was a very unusual situation. I never saw anything like it during the 27 years I've spent in this industry."
The bank is now in a situation in which "there are quite a few people owing us money," Christensen said. "Some are able to pay, others are not."
Aside from the lawsuit against the Singapore clients, Saxo is "trying to sit down and talk things over with people, nice and quiet," Christensen said. "But if people try to flip the situation and act irresponsibly toward us, then we'll be forced to put our foot down."
Before it's here, it's on the Bloomberg Terminal.
LEARN MORE