Saint-Gobain Riding U.S. Housing Recovery as French Market Slows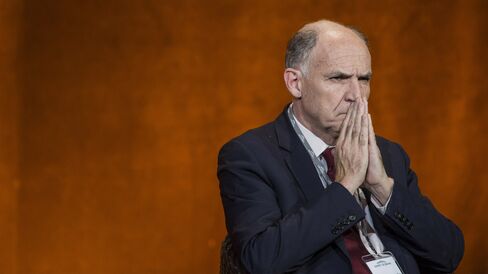 Europe's largest building-materials supplier is capitalizing on the recovery in the U.S. housing market to become a bit more American.
Cie. de Saint-Gobain SA is restarting dormant factories and hiring workers as part of $3 billion in U.S. investments, Chief Executive Officer Pierre-Andre de Chalendar said. The 350-year-old French company, whose products include drywall and color-changing glass, is also targeting acquisitions in the U.S.
"We have a very solid presence in Western Europe, but we want to grow in the U.S., where I think we are not enough represented," de Chalendar, 57, said Tuesday in an interview at Bloomberg's New York headquarters. "We are continuing to reinvest in modernizing our plants that were idled during the big housing crisis."
Saint-Gobain, embroiled in a dispute over its proposed purchase of a stake in Swiss chemicals maker Sika AG, is looking overseas as its home market struggles through tepid construction demand. The company bought Manassas, Virginia-based ZenPure Corp. last month and raised its holdings this week in Vietnam's Vinh Tuong Industrial Corp.
North America accounted for about 12 percent of Saint-Gobain's 41 billion euros ($46 billion) in sales last year. More than two-thirds of the company's revenue comes from Europe.
With U.S. housing starts up 20 percent in April and rising at the fastest annualized rate since 2007, Saint-Gobain is building a new roofing plant in Missouri due to open in 2016, according to John Crowe, CEO of the North American holding company.
'Anticipated Demand'
Saint-Gobain's U.S. investments also include restarting manufacturing operations in Mississippi, Missouri and Washington, and building a new North American headquarters in Pennsylvania.
"A lot of capacity was idled through the downturn, but now that times are getting better, we need to keep our capacity in line with anticipated demand in the coming years," Crowe said in the interview. Annual U.S. housing starts could rise about 50 percent in the next three to four years, he said.
The company, based in Courbevoie near Paris, is looking to sell its glass-packaging unit, Verallia, as it refocuses on building materials. A deal is likely in the third quarter, de Chalendar said.
Attracting Interest
"We are attracting a lot of interest from various investors -- private-equity firms and also industrial strategic buyers," he said. Saint-Gobain previously sold the North American operations of that business to Ardagh Group SA for $1.7 billion.
The stock rose 19 percent this year through Tuesday, to
42.095 euros, topping the 18 percent advance for France's CAC All-Tradable Index.
Saint-Gobain reached a deal in December with Sika's founding family to buy its 16 percent stake for 2.75 billion Swiss francs ($2.95 billion). The Burkard family, which has owned the company for 104 years, took advantage of an opt-out clause to sell its holding at an 80 percent premium.
Sika's management, board and a number of shareholders oppose the deal, which would give Saint-Gobain control of the Baar, Switzerland-based company despite buying a minority stake. The Burkards hold 52 percent of the voting rights.
At a shareholder meeting in April, Sika sought to restrict the family's ability to exercise its majority voting rights, prompting lawsuits by the Burkards against board members.
Saint-Gobain has prepared for a protracted legal battle, agreeing to extend the share-purchase contract until June 2016. De Chalendar said he is confident the deal will get done.
"The family who owns Sika has been deprived of its rights, so they are just trying to recover their rights. When they recover their rights, we'll buy their stake," he said. "It's just going to take a little bit longer."
Before it's here, it's on the Bloomberg Terminal.
LEARN MORE