Rousseff's Washington Visit Spurring Talks on Climate Divide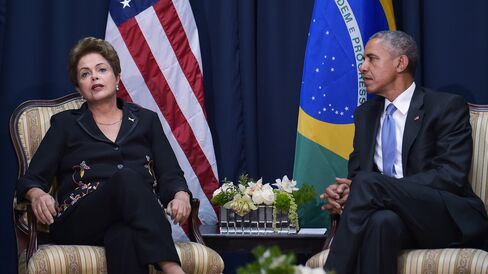 When Brazilian President Dilma Rousseff visits Washington this month, the climate-change schism between developing countries like hers and the U.S. will be front and center on the agenda.
The U.S. and other industrial nations say the entire world must limit emissions; developing countries led by Brazil counter that wealthier countries that have spewed more carbon into the atmosphere should shoulder more of the financial burden, helping them grow while using less fossil fuels.
The debate is one of the key hurdles to be resolved before a December meeting in Paris, where almost 200 nations are expected to finalize a global pact to fight climate change. A U.S.-Brazil deal would be a key step toward bridging this gap. President Barack Obama used a similar trip to China to seal a historic agreement on pollution limits in November.
"Bilateral conversations are being held in the governments' highest levels," Carlos Klink, secretary for climate change at Brazil's environment ministry, said in a telephone interview. "Negotiations between Brazil and the U.S will provide support for the Paris meeting at the end of the year."
Before the United Nations-organized meeting in Paris, nations are expected to issue voluntary proposals that define how they plan to reduce emissions. Brazil has yet to do so and Klink said it's not clear whether that will happen when Rousseff is in Washington.
Washington Trip
Rousseff will be in Washington on June 30 and will also discuss ways the two countries can cooperate on education, science and technology. While her official agenda hasn't been set, Obama said at the Summit of the Americas in Panama in April that he expected to "put forward some very concrete plans" during her visit.
She may also discuss advanced biofuel technologies. The U.S., the world's top ethanol producer, and Brazil, the biggest supplier of ethanol made from sugarcane, agreed in 2007 to cooperate on research and development in the field.
'Political Sign'
"Conversations between the two countries are a very important political sign," said Andre Nahur, climate coordinator in Brazil for the environmental group WWF. Brazilian and American organizations are jointly preparing a document with suggestions to be delivered to both governments during Rousseff's visit, he said.
Brazil has taken a key role among developing nations in the UN climate negotiations. China has also been a significant voices in that camp, and its agreement to cap carbon emissions by 2030 was seen as a significant step toward bridging the gap between the two positions. Obama and Chinese President Xi Jinping jointly announced the deal Nov. 12 in Beijing.
Brazil is also making significant strides in reducing greenhouse gas production. It adopted a national climate-change policy in 2010 and cut carbon emissions by 41 percent from 2005 to 2012, according to official data.
Carbon Target
The country issued a non-binding goal of reducing emissions by at least 36.1 percent from the level the nation expects to be at in 2020. It's also working to slow deforestation in the Amazon.
Businesses in Brazil are expecting the government to announce new climate policies that may affect their operations. The National Industry Confederation, the country's largest industry group, said it's preparing a document addressing how its members may be affected by a climate agreement.
"The U.S. and Brazil are important players in the global efforts to reduce greenhouse gas emissions and reach a successful agreement in Paris," Todd Stern, U.S. envoy to the climate talks, said in an e-mailed statement. "We look forward to working together on this issue in the context of President Rousseff's visit to Washington."
Before it's here, it's on the Bloomberg Terminal.
LEARN MORE