Qantas Torn as Boeing Dreamliner Risks Spoiling Escape From Junk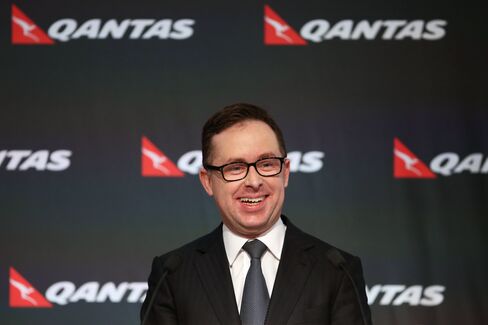 Qantas Airways Ltd. is on the verge of winning back the investment-grade credit status it lost in 2013. Getting there may require putting off plans to buy Dreamliner aircraft.
Bonds sold by Australia's biggest carrier are at record-low yield premiums on speculation cost cuts, cheaper fuel and a tie-up with Emirates Airline will deliver the strongest profits since 2008. Chief Executive Officer Alan Joyce may need to make more sacrifices, including delaying purchases of Boeing Co. 787 Dreamliners a second time, National Australia Bank Ltd. says.
"It all comes back to where Qantas's priorities lie," Michael Bush, head of credit research at NAB in Melbourne, said by phone. Better cash flows are freeing up money to spend on either debt reduction or new planes, he said: "I'm a bit less sure whether they're strong enough to support both imperatives."
The so-called Flying Kangaroo had stumbled for much of the past six years after safety issues including a mid-air engine explosion, a fare war with Virgin Australia Holdings Ltd. and a soaring Aussie dollar. Qantas credit-default swaps are the best performing contracts globally over the past year among airlines tracked by Bloomberg, down 120 basis points. Japan's ANA Holdings Inc., the biggest Dreamliner owner with 83 planes, is the next best.
'Unique Opportunity'
Qantas faces a "unique opportunity" to replace its remaining 747 fleet with "new next-generation aircraft", the carrier's new Chief Financial Officer Tino La Spina told a May 12 investor conference.
Meanwhile, Standard & Poor's said in February it probably won't raise Qantas's credit ratings "for at least the next 12 to 18 months."
Qantas spokesman Andrew McGinnes noted Joyce and La Spina's May 12 comments and declined to comment separately on the questions of fleet renewal and credit ratings when contacted by Bloomberg via e-mail.
The Australian airline has 50 options and purchase rights for Dreamliners that it can receive starting in 2017, the company said Aug. 28. They're worth as much as $12.86 billion at Boeing's list prices; large customers like Qantas typically get a discount.
Upgrading planes is costly, though there's a "massive improvement from a customer service perspective," La Spina said in May. A quarter of passengers on ANA's Dreamliners said they'd go out of their way to book flights on the aircraft, according to a 2012 survey by the carrier, a launch customer of the model.
Dreamliners are also about 20 percent more fuel-efficient than current jets, according to Boeing. That would help with Qantas's A$4.5 billion ($3.5 billion) fuel bill, its biggest cost item.
Reducing Debt
At the same time, skipping or delaying the first Dreamliner deliveries might be worthwhile if it helps convince ratings companies of Qantas's commitment to pay down debt, according to Bush.
Stripped of investment-grade ratings by S&P in 2013 and Moody's Investors Service in 2014 amid high fuel prices and competition that pushed revenue below operating costs, Qantas's improving prospects have made it the best-performing stock on Australia's main index since September.
It will earn net income of A$586 million in the year to June, according to the median of eight analyst estimates compiled by Bloomberg.
The better outlook has made borrowing costs cheaper. It has also seen the chance of Qantas reneging on its debts in the year ahead stay below 0.3 percent this year, a level consistent with the second-lowest investment grade, according to Bloomberg's default-risk model.
Shrinking Premium
The yield premium over the swap rate on the airline's A$400 million of May 2022 bonds dropped to as little as 255 basis points in May, according to Australia & New Zealand Banking Group Ltd. prices. That's the least on record and more than a percentage point below the 400-basis-point spread the notes were issued at last year when the carrier became the first junk-rated borrower to issue bonds in Australia's domestic market.
The question is how long it will take to persuade ratings companies that Qantas deserves an upgrade, said George Bishay, a fixed-income portfolio manager at BT Investment Management.
The downgrades were based more on Qantas's tougher competitive environment against second-ranked domestic carrier Virgin than the shape of its balance sheet, Bishay said. While there's currently a truce in that battle, the risk of renewed conflict hasn't gone away, he said.
"They will get back to investment grade, but it won't be in the next six months," he said by phone from Sydney. "It could be a year, it could be two."
Before it's here, it's on the Bloomberg Terminal.
LEARN MORE