Philadelphia Pension Pulls Money From Chanos After April Losses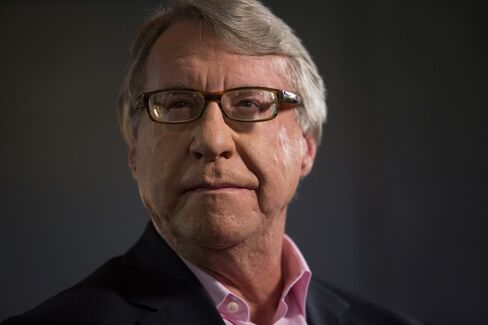 Philadelphia's pension board voted to pull its money from Jim Chanos's Kynikos Associates after losses in April that prompted a finance director to ask "what went wrong."
The board voted unanimously to pull the pension's $25 million investment in the Kynikos Opportunity Fund after the fund lost about 4.7 percent in April, according to the minutes of a pension board meeting. Kynikos lost money betting on declines in China and shorting companies it viewed as having accounting problems or financial distress, the minutes show.
Chanos, who predicted the collapse of Enron Corp. in 2001, declined to comment. Brad Woolworth, the pension's chief investment officer, didn't respond to a request for comment.
Rob Dubow, the $4.5 billion pension's finance director, has previously questioned giving money to Chanos as the bull market in stocks punished managers like Kynikos that bet against companies. The pension fund has lost 6.4 percent per year on its investment in the Kynikos fund from inception in May 2012 through February.
In January 2014, Philadelphia stuck with Chanos because he'd helped the pension plan with its broader allocations, including limiting investments in international and emerging equities. Sumit Handa, chief investment officer at the time, also argued that three Chanos short bets were against companies that potentially committed accounting fraud and therefore would probably pay off. Handa left in January for Bank of New York Mellon Corp.
After the latest loss, Dubow asked Woolworth, "what went wrong?" He also asked if it was a one-time occurrence that Kynikos can overcome.
Woolworth responded that if this had been the first time, he would have given Chanos a chance. But the fund has had the conversation, he said, and the staff had spent a long time discussing this manager.
While Philadelphia's investment in Kynikos significantly underperfomed against the Standard & Poor's 500 Index, which returned an annualized 19 percent during the comparable period, Chanos beat other managers that bet mostly against stocks. The HFRX Equity Hedge Short Bias Index fell an average of 10.9 percent per year over than period, according to data compiled by Bloomberg.
Before it's here, it's on the Bloomberg Terminal.
LEARN MORE