Paulson Gives Harvard Record $400 Million for Engineering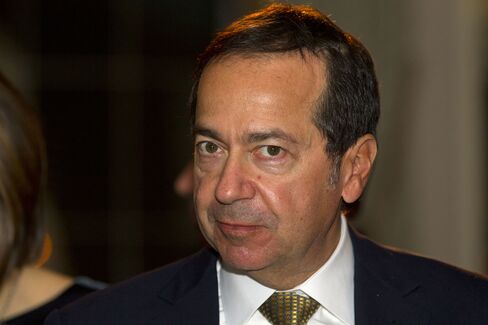 Billionaire hedge-fund manager John Paulson gave $400 million to Harvard University's engineering school, the biggest donation in the college's 379-year history.
Harvard said it will rename the engineering school after Paulson and establish an endowment to benefit research, faculty development and financial aid.
The gift, one of the largest in the history of higher education, shows how the wealthiest U.S. universities are attracting more than their share of philanthropy. Harvard raised $1.16 billion last year, and President Drew Faust is leading an effort to raise $6.5 billion by 2018.
The donation "will provide Harvard's newest school, less than a decade old, with the firm foundation we have strived to build as we have witnessed engineering's growth," Faust said in a speech on campus.
Faust and Harvard Business School Dean Nitin Nohria had discussed the potential gift for two years, Paulson said in a press conference. A 1980 graduate of the business school, Paulson said he was making the gift because Harvard had opened doors for him.
The John A. Paulson School of Engineering and Applied Sciences' faculty and classes are scheduled to move across the Charles River from Harvard's main campus in Cambridge, Massachusetts to Boston's Allston neighborhood, near its business school.
Tech Opportunity
"In business today so much of our investing is investing in technology," Paulson said. "Harvard sees a big opportunity in technology."
Since 2007, when Harvard's engineering division expanded into a school, student enrollment has more than doubled and the faculty has grown by 30 percent. Harvard alumnus Steven Ballmer gave an estimated $60 million last year to add 12 members to the engineering school's computer science faculty, increasing the total to 36.
Paulson, 59, is founder and president of New York-based Paulson & Co., which manages $19.3 billion with more than 125 employees. He's the 113th-richest person in the world with $11.3 billion, according to the Bloomberg Billionaires Index.
Paulson, who got his bachelor's degree from New York University, founded his investment firm in 1994. He discovered a way to bet against the overvalued housing market with contracts that rose in value as mortgage-backed bonds declined. In 2007, when the credit crisis began, the firm made about $15 billion for Paulson, his staff and investors.
Biggest Gifts
Adjusted for inflation, Paulson's donation would be the fourth-biggest cash gift to higher education on the Million Dollar List of Indiana University's Lilly Family School of Philanthropy, which dates to 2000. The largest is a 2001 donation to Stanford University from the William and Flora Hewlett Foundation that would be worth $532 million today.
It's the second large gift to an Ivy League university from a Wall Street billionaire in the last month. In May, Stephen Schwarzman, founder, chairman and chief executive of Blackstone Group LP, gave $150 million to Yale University for a student center.
Paulson's philanthropy to Harvard surpasses a $350 million gift last year from the family of the late T.H. Chan, for whom the Chan School of Public Health is now named.
Before it's here, it's on the Bloomberg Terminal.
LEARN MORE