Margin-Debt Growth Fails to Stir U.S. Stock Concern at Strategas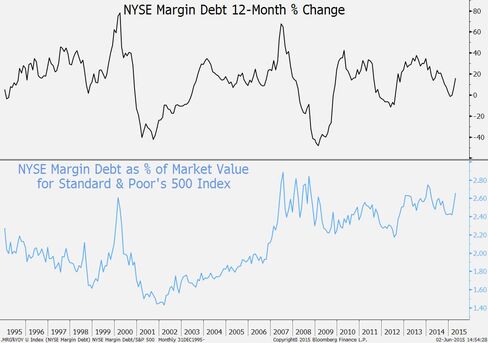 Investors have avoided the kind of rush to buy U.S. stocks with borrowed money that would put share prices at risk, according to Chris Verrone, head of technical analysis at Strategas Research Partners LLC.
The attached chart shows how Verrone drew this conclusion in a report yesterday: by tracking 12-month percentage changes in the amount of margin debt at New York Stock Exchange member firms, according to monthly data compiled by the exchange.
April's margin debt, which set a record at $507.2 billion, rose 16 percent from a year earlier. The growth rate was below the peaks of 68 percent in June 2007, months before a five-year bull market ended, and 78 percent in March 2000, the same month that the previous bull market concluded.
"There are certainly things to be worried about here," wrote Verrone, based in New York. "We just don't think margin debt is one of them."
The chart also displays margin debt as a percentage of the market value of Standard & Poor's 500 Index companies, a gauge similar to one cited two days ago by the EconomPic Data and Pragmatic Capitalism financial blogs.
April's borrowing equaled 2.66 percent of the S&P 500's value, according to data compiled by Bloomberg. The figure was well within its range for the past eight years, 2.17 percent to
2.88 percent, as the chart indicates.
"The debt will only be worrisome if we assume that the stock market is at an unsustainable level and that margin calls and debt repayment could fuel the downside," Cullen Roche, the founder of San Diego-based Orcam Financial Group LLC and editor of Pragmatic Capitalism, wrote in his posting.
Before it's here, it's on the Bloomberg Terminal.
LEARN MORE