Krugman's Euro Jibe Has Finnish PM Defending Currency Policy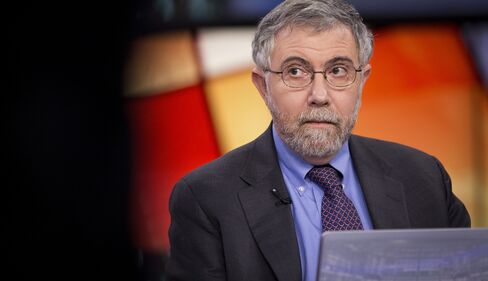 After berating Swedish central bankers for their policy choices, Nobel laureate Paul Krugman has moved on to Finland.
Once again, the target is monetary policy, namely Finland's euro membership, which Krugman characterizes as a "straitjacket." The country recovered from its 1990s economic crisis in part by devaluing the markka. Now, its failure to boost competitiveness shows that even nations that "did nothing wrong by the official criteria" of euro membership are "suffering in a major way," Krugman says.
Finland has yet to emerge from an economic contraction that's lasted since 2012. Though the yields on its government bonds show investors regard it as a haven from Europe's debt crisis, unemployment is above 10 percent and industrial production has contracted for the better part of three years. First-quarter output shrank 0.1 percent from the prior three months, a third consecutive contraction, the statistics office said Thursday.
Finland "has been held hostage by the competitiveness gap for too long and that has driven jobs away," Prime Minister Juha Sipila said in a June 2 interview in Helsinki. But the answer isn't a euro exit. "We need to learn to live with the euro. When competitiveness is lost, then we need to find ways to restore it."
The answer then becomes a so-called internal devaluation, in which labor costs are suppressed until they match productivity.
Smartphones
"There are many ways to do it," Sipila said. "We've been left behind by our competitors by quite some way."
The disconnect between Finnish wages and productivity started in 2007 when Nokia Oyj's success buoyed the whole economy and unions won wage increases reflecting that dominance. But then Nokia missed the boat on smartphones, and suddenly a key growth motor in Finland was in decline.
Finland's paper industry, its other main job creator, is slowly being killed as books and magazines give way to kindles and iPads. The country now exports goods that add less value to its economy.
In addition to simply reducing output, those industrial shifts have eroded productivity, sending unit labor costs in Finland as much as 20 percent higher than in Sweden and Germany, according to a government-backed study.
Devaluation is a quick fix for exactly this kind of economic problem -- it helps exports by making them cheaper. But it doesn't revive an industrial sector that's become obsolete.
Given devaluation isn't an option, "we need to continuously ensure we keep up our competitiveness," Sipila said. That also affects "Finnish public finances, because those have an indirect impact also on competitiveness," he said.
Sipila's government took office last week and has adopted a program that targets closing a 10 billion-euro ($11 billion) gap in public finances by 2030 through spending cuts and economic overhaul. He's set an Aug. 21 deadline for Finnish unions to accept a proposal targeting a 5 percent cut in unit labor costs over the next four years.
Before it's here, it's on the Bloomberg Terminal.
LEARN MORE