Korean Politician Chung Says He's Considering FIFA Bid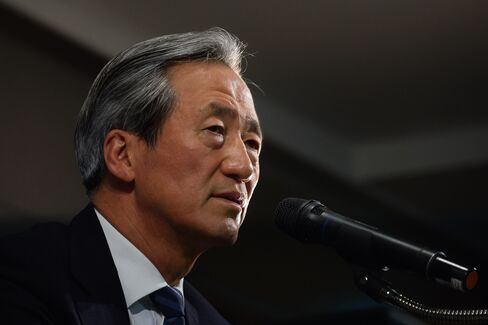 Chung Mong Joon, an honorary FIFA vice president who has also run for the South Korean presidency, said he's considering a bid to replace outgoing global soccer chief Sepp Blatter.
Chung, also the second-largest shareholder in South Korean shipbuilder Hyundai Heavy Industries Co., said he will listen to other people's opinions at FIFA before deciding whether to run, and also criticized Blatter's decision to stay in office while his successor is chosen.
"It's not right for a person subject to reform to lead reform," Chung said at a press conference in Seoul on Wednesday. "Let us try to give FIFA a rebirth by taking advantage of the current crisis."
The 63-year-old Chung has been a long-time critic of Blatter, and last week called on him to end a tenure he said saw FIFA "become one of the most distrusted organizations in the world." Blatter's surprise resignation days after winning a fifth term as FIFA's president creates a chance for the global body to improve its scandal-ridden image, even as it's investigated by U.S. prosecutors.
With Blatter's departure date undecided, it's unclear whether the debate over Qatar's plan to host the 2022 World Cup will fall to FIFA's new president to handle. The decision to award the rights to the Middle East country has been criticized because of the scorching heat, human rights abuses and lack of soccer tradition.
Michel Platini, a former Blatter lieutenant turned critic, is considered the bookmakers' favorite to become president. The former French national team player and coach, who heads European soccer governing body UEFA, also called on Blatter to quit last week.
Chung considered a bid for FIFA's top job before the 2011 election, though he lost his seat on its executive committee that year to Prince Ali bin al-Hussein of Jordan. Ali was Blatter's only challenger in last week's election.
Chung's 10 percent stake in Hyundai Heavy is worth almost 1 trillion won ($905 million), based on today's closing share price and data compiled by Bloomberg. In addition to his South Korea presidential bid, he stood as a candidate for Seoul mayor last year, losing out to incumbent Park Won Soon.
Before it's here, it's on the Bloomberg Terminal.
LEARN MORE