FCC to Allow Cable Companies to Raise Rates Without Local Approval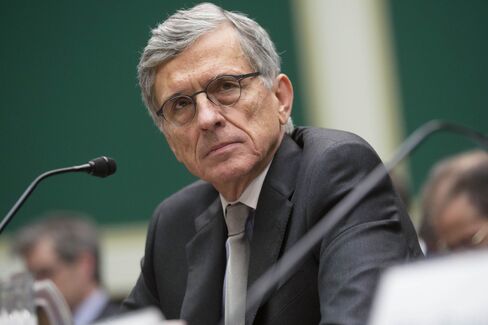 Cable providers including Comcast Corp. can raise customer rates without approval from local governments under a change adopted by the U.S. Federal Communications Commission over opposition from broadcasters.
States, cities and other localities lost oversight of basic programming packages on a 5-0 vote by the FCC led by Democratic Chairman Tom Wheeler said an agency official briefed on the matter who requested anonymity because the result hasn't been made public.
Currently, cable companies seek FCC approval to escape local rate-setting. Requests are almost always granted: the agency says it approved all but four of 224 since 2013.
With the change, the FCC will assume cable companies deserve to escape local rate regulation. It falls to jurisdictions to ask for permission to retain that power.
The FCC said it was changing its 22-year-old rule because the market has changed, with nationwide competition from satellite television. Neil Grace, an agency spokesman, in an e-mail called the proposal "a common-sense update for today's video marketplace to reduce regulatory burdens on all cable operators -- large and small."
Grace declined to comment on the vote because the result hasn't been announced.
Comcast, the nation's biggest cable provider, said only about 17 percent of its subscriber base was subject to rate regulation by local government.
Programming Packages
Most U.S. jurisdictions today have power to regulate rates for basic programming packages, according to policy groups including Common Cause and Free Press. Consumers Union told the FCC that "there is little evidence to suggest that today's cable marketplace is a competitive one" given subscription rates rising faster than inflation.
Cable companies backed the move, saying it eliminates needless red tape.
Broadcasters fear cable companies can now assign TV-station signals to pricier tiers, cutting the audience for local programming, said Dennis Wharton, spokesman for the National Association of Broadcasters trade group.
The change cuts requirements for uniform rates across a locality, and lets cable companies offer any number of programming tiers before customers can order premium and pay-per-view offerings, said an FCC advisory panel.
Congress asked the FCC to simplify procedures for small cable companies, and Wheeler's change provides "unnecessary regulatory benefits to large cable companies," 13 U.S. senators, all Democrats along with one independent, said in a May 12 letter to Wheeler.
Consumers may see higher rates and fewer channels in the lowest-cost program packages, said the senators including Al Franken, of Minnesota.
There is competition in "virtually every community," the National Cable & Telecommunications Association said in filings. Comcast is a member of the trade group.
Before it's here, it's on the Bloomberg Terminal.
LEARN MORE