ECB Stays on Hold; Four Things to Watch From Draghi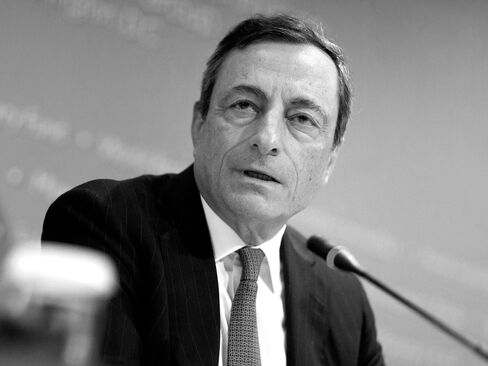 The European Central Bank left interest rates unchanged today, as expected. Market participants will focus on the comments from President Mario Draghi during the press conference starting at 1:30 p.m. London time. Here's what to watch for:
Opinion on the Bond Selloff
Draghi has so far said nothing about the market correction that started a few days after the last ECB meeting on April 15. He will have an opportunity to do so today, perhaps outlining potential implications for monetary policy.
New Economic Forecasts
New macroeconomic projections to be released by the ECB are likely to show an upward revision to the inflation forecast, which currently stands at zero for 2015. Still, any upgrade is likely to be too small to warrant changes to the design of quantitative easing.
QE Frontloading
Executive Board member Benoit Coeure announced the ECB's intention to frontload its purchases "in May and June" in order to compensate for seasonal effects from the summer holidays. Yet the pace was hardly changed in May from April, so the bulk of those extra purchases are likely to come in June. This larger-than-usual monthly intervention won't affect the ECB's pledge that its operations will be market neutral, as long as it doesn't affect the maturities it buys. Still, Draghi might address that point.
Greece
The Governing Council was said to have raised the ELA ceiling for Greek banks yesterday by some 500 million euros to 80.7 billion euros. There is little doubt that journalists will grill Draghi to see if the central bank is losing patience in the ongoing negotiations. The ECB president was in the room during the late-night meeting that took place on Monday in Berlin.
Maxime Sbaihi is an economist for Bloomberg Intelligence. This post is courtesy of Bloomberg Intelligence Economics.
Before it's here, it's on the Bloomberg Terminal.
LEARN MORE