China Slowly Starts to Tame Its Traffic
Second-tier cities have learned from Beijing's mistakes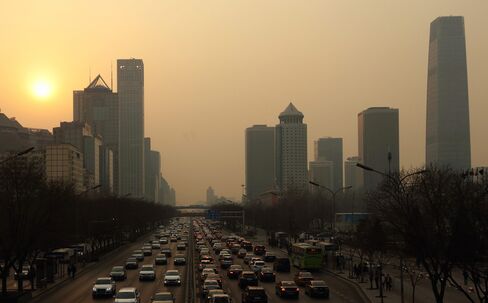 During rush hour on Beijing's most congested highways and streets, bicycles and vegetable carts rattling down sidewalks move faster than auto traffic, whether you're riding in an official's shiny new Audi or a Volkswagen taxi. But there's actually some good news about China's struggle to manage its traffic. The swift rise in car ownership in Beijing has slowed, thanks to a license plate lottery—a Beijinger can drive a car only if he has a license plate to put on it. More important for China's future, the less developed tier-2 cities are learning from Beijing's mistakes.
The lottery eased congestion measurably in 2011, the year it started, says Anthony Liu, an economist at Cheung Kong Graduate School of Business in Beijing, who published an examination of the policy last year in the journal Energy Policy. "The lottery slows down the growth in car [ownership], while allowing other policies to take hold, such as expanding public transportation systems," says Liu. Beijing has added three lines to its subway and expanded five since 2011. An additional six lines are being planned. The system is expected to have 1,000 kilometers (621 miles) of track by 2020, up from 527 kilometers now. The lottery now allots 130,000 plates per year, down from 240,000 when it first started.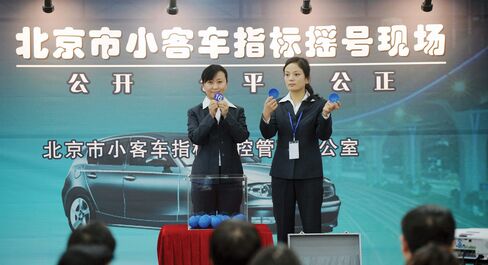 Beijing offers lessons in what not to do, as well. Fifty-seven percent of Beijing's 22 million residents live in the city outskirts, between the third and sixth ring roads, according to figures released in late May by the city government. Yet the best hospitals and schools lie within the second ring road along with the central business district and Financial Street. That makes for long inbound commutes. "China's first-tier cities' urban layouts are already locked into position, which makes it hard to take measures to change traffic flow," says Lulu Xue, a research analyst at the World Resources Institute China, an environmental nonprofit in Beijing. "It's better if cities can plan for growth, rather than simply react to it."
As an example of foresight in planning, Xue cites Chengdu, a prosperous tier-2 city of 14 million in southwestern China. In December 2011 the city designated a development zone to its west, called Tianfu New Area, which is still under construction. The plan combines green areas with residential and industrial space. The goal, Xue says, is to "promote decentralization of jobs and key facilities—such as schools and hospitals—instead of clustering them all in one center." In a similar development, the central government is moving some of its ministries to a new town near Baoding, which is about 150 kilometers southwest of Beijing.
Chengdu has made alternatives to commuting by car more attractive. Each morning, 32-year-old Wu Shiling commutes 5 kilometers by bike to his office at a nonprofit. Biking to work used to be common in Beijing, but sharing the road with an increasing number of automobiles is enough to rattle anyone's nerves, and riders are often blasted with exhaust. Wu's ride in Chengdu is more pleasant because along major roads the city has built wide tree-shaded lanes for bikes and scooters, separated from the main road by grassy medians.
In many Chinese cities, bus schedules are unreliable. Chengdu, when it was planning its second ring road, made room in the plan for two lanes—one in each direction—for Bus Rapid Transit. This allows buses to move more quickly and predictably. During rush hour, Chengdu's BRT vehicles are full. The city is also expanding its new subway system, from 2 lines to 10. Other second-tier cities, including Kunming and Urumqi, are building or expanding rapid transit bus systems and metros.
To control traffic, "there's no magic bullet," says Liu, the economist. "Around the world, all these developing cities in fast-growing countries, they're all experiencing some gridlock." China's leaders now recognize and are trying to tackle the issue, he says. "China has done some of the most creative and aggressive attempts to rein in congestion. It's not easy."
The bottom line: Chinese cities are running license plate lotteries, building bus lanes, and expanding subways to slow traffic.
Before it's here, it's on the Bloomberg Terminal.
LEARN MORE