Brazil Boosts Rate for Sixth Time as Investors Doubt Tombini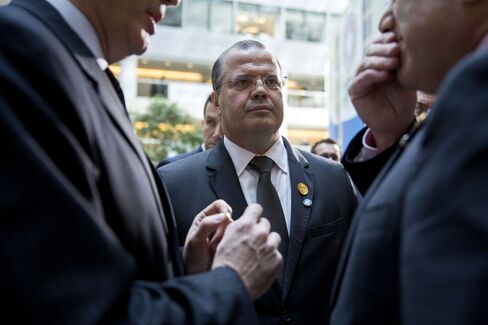 Brazil raised interest rates for a sixth straight time as policy makers work to convince investors that inflation will reach target.
The bank's board, led by its President Alexandre Tombini, in a unanimous vote raised the benchmark rate by a half-point to 13.75 percent Wednesday, the highest since January 2009. The statement accompanying the decision uses the same language as the prior communique. The move was forecast by 55 of 56 economists surveyed by Bloomberg. One analyst expected a quarter-point increase.
Economists and traders bet the deepest recession in 25 years will prevent Tombini from raising interest rates as much as needed to slow inflation to the 4.5 percent target next year. Meanwhile, Tombini has pledged to do what it takes to meet the goal even as unemployment rises.
"The central bank needs to regain credibility to help confidence rise, and they are on the right path," Flavio Serrano, senior economist at BESI Brasil, said in a phone interview from Sao Paulo. "Wrong economic policies are to blame for the economic state right now."
President Dilma Rousseff boosted spending and reduced interest rates to a record low during her first term that ended in December in a bid to revive economic growth. Her policies instead eroded confidence, causing inflation to accelerate and the budget gap to expand.
The Rousseff administration this year has raised taxes and cut spending to rebuild credibility and help the central bank tame inflation.
'Upward Trend'
Finance Minister Joaquim Levy froze 69.9 billion reais ($22.3 billion) in spending this year to deliver a budget surplus before interest payments of 1.1 percent of the gross domestic product. The effort to shore up fiscal accounts was met with a vote of confidence from Standard & Poor's, which maintained Brazil's investment-grade rating in March.
Analysts surveyed by the central bank forecast consumer prices this year will rise 8.39 percent, exceeding the upper limit of its 2.5 percent to 6.5 percent target range for the first time since 2003. They see inflation slowing to 5.5 percent by December 2016 following an economic contraction of 1.3 percent this year.
Tombini says next year's inflation outlook hasn't improved enough. Swap rates on the contract due in January 2017 increased 0.06 percentage point Wednesday to 13.58 percent as traders reinforced bets the central bank will keep raising rates in 2015.
"Inflation has been in an upward trend in the past seven years," Roberto Padovani, chief economist at Votorantim Ctvm and the top forecaster among analysts surveyed by Bloomberg, said by phone. "To combat that, monetary policy need to be tougher than in a situation where inflation wasn't persistent."
Before it's here, it's on the Bloomberg Terminal.
LEARN MORE