Bonds Are Tumbling and It's Not Just Because of the Economy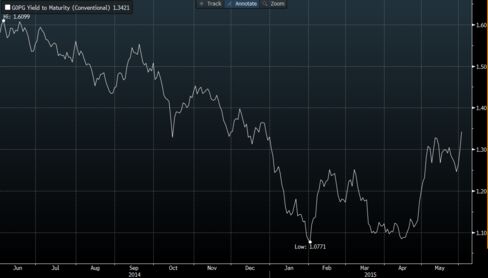 The surge in government bond yields around the world to the highest this year isn't just because of signs of economic improvement. A lack of liquidity is amplifying the move.
As yields rise, price swings have been exacerbated as major Wall Street firms have reduced their market making role. Dealers cut their U.S. government debt holdings to $22.9 billion as of May 20, down from a record high $146 billion in October 2013, Fed data show. That helped to push a measure of volatility Tuesday to the highest level in two weeks.
Global yields reached negative levels earlier this year after central bank buying reached record levels. The European Central Bank and Bank of Japan are both snapping up record amounts of government debt as they try to spur their economies, a policy known as quantitative easing. The ECB increased purchases in May before the region's summer vacation period. The Federal Reserve's Treasury holdings are near a record after a bond-buying program that lasted from 2008 to 2014.
Two things happened as a result. Investors revolted against German 10-year bond yields that approached zero, and the lack of depth in the market increased the size of the move once it started.
"At the source of this selloff is the fact that yields were at ridiculous levels," Francesco Garzarelli, co-head of macro and markets research at Goldman Sachs in London, said in an interview on Bloomberg television. "The bond market is not as elastic as it used to be and that's because of all the regulations and balance-sheet constraints."
In the U.S. the Bank of America Merrill Lynch's MOVE Index, derived from over-the-counter options on Treasuries maturing in two to 30 years, rose to 87.48 on Tuesday, the highest level since May 22.
Yield Levels
The average yield on sovereign securities climbed to 1.34 percent Tuesday, the highest since Dec. 26, based on Bank of America Merrill Lynch indexes. The securities have lost 2 percent this quarter after accounting for interest payments.
Benchmark U.S. Treasury 10-year yields rose six basis points, or 0.06 percentage point, to 2.33 percent as of 10:57 a.m. New York time, according to Bloomberg Bond Trader data. They have climbed from this year's low of 1.64 percent set in January. The 2.125 percent note due in May 2025 fell 17/32 to 98 7/32.
German 10-year yields have increased to 0.89 percent from the record low of 0.049 percent set in April. In Japan, they are 0.465 percent, more than double their January level.
A trader could have traded around 100 contracts in 30-year bund futures without moving markets too much at the beginning of 2014, but this number dropped to below 20 in early May, according to figures from JPMorgan Chase & Co.
Strengthening Economy
"It's pretty much driven by Europe," said Yusuke Ito, a fund manager in Tokyo at Mizuho Asset Management, which oversees $32 billion. "Because of the ECB's quantitative easing, the liquidity there is pretty scarce. Under that kind of situation, it's pretty easy for the yield to go up or down."
Yields are increasing amid signs the global economy is responding to the record central-bank stimulus being applied. Data this week showed euro-area consumer prices rose in May for the first time in six months on an annual basis, while U.S. manufacturing and construction spending are accelerating. Japan's economy expanded for a second quarter, figures last month showed.
Risk Regulation
Regulations requiring market participants to reduce risk are adding to the lack of liquidity, said Hajime Nagata, who invests in Treasuries for Tokyo-based Diam Co., which oversees the equivalent of $140 billion. The result is that market makers have fewer bonds in inventory, he said.
The Volcker Rule and Basel III regulations require banks to cut back on risky trading activities and holdings, leading them to scale down their bond-trading businesses.
For Treasuries, the share of transactions by primary dealers has dwindled by more than half to 4 percent since the end of 2008, according to the Institute of International Finance, a lobbying group for banks.
In the past year, JPMorgan, Morgan Stanley, Credit Suisse Group AG and Royal Bank of Scotland Group Plc have either cut back their fixed-income trading desks or are weighing reductions in those businesses.
That has all led to exaggerated moves in bonds, according to Diam's Nagata. "All of a sudden, bond prices are going down," he said.
(An earlier version of this story was corrected to show time as in London.)
Before it's here, it's on the Bloomberg Terminal.
LEARN MORE