Bond Trader Math Shows Brazil Doomed to Fail in Inflation Fight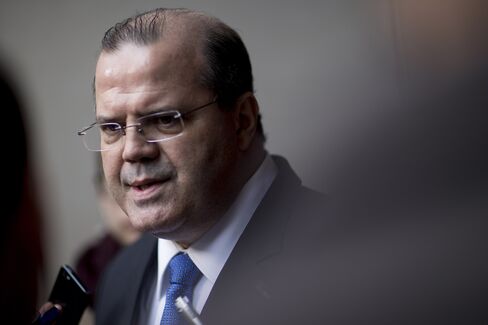 Brazil's central bank is finding it impossible to convince bond traders that it will make good on pledges to tame inflation.
Cost-of-living expectations show inflation persisting above the central bank's target range for the next two years even with traders pricing the likelihood that interest rates will rise a total of 0.75 percentage point at the next two meetings. At 13.25 percent, Brazil's benchmark borrowing costs are the highest among the Group of 20 nations.
As head of the central bank, Alexandre Tombini is failing to earn traders' trust after missing the target throughout his tenure and cutting rates in 2011 and 2012 to boost economic growth. He would have to lift borrowing costs to 15 percent to better his odds of reaching the bank's target next year in a move that would deepen what may be the worst recession in 25 years, economist Newton Rosa said.
"The cost of catching up on lost ground and regaining credibility is very high in terms of the sacrifice of production and employment," said Rosa, the chief economist at brokerage Sul America Investimentos Dtvm. "There needs to be a stronger monetary-policy effort than in a scenario where you have credibility."
Swap rates on the contract due in January 2017, the most traded in Sao Paulo, rose 0.03 percentage point to 13.55 percent at 12 noon local time. The real strengthened 0.6 percent to 3.1137.
Official Target
Tombini has made a point of expressing his commitment to slower inflation, saying in at least two speeches since the previous meeting in April that policy makers will remain "vigilant" to reach the target by December 2016. The official target is 4.5 percent, plus or minus 2 percentage points.
Traders are betting on a 0.5 percentage point boost in the June 3 meeting, which ends after 6 p.m. Brasilia time, and an increase of 0.25 percentage point on July 29. That would give Brazil a 14 percent rate, the highest since 2006. They are split whether rates will rise another quarter-point in September or remain at 14 percent for the rest of 2015.
Roberto Padovani, the top forecaster of Brazil's key rate in surveys by Bloomberg and the chief economist at brokerage Votorantim Ctvm, says Tombini's message is getting out and that his monetary tightening may pay off if borrowing costs reach 14 percent, as he expects.
Break-Even
Others aren't so optimistic. While consumer price expectations have declined this year, they remain more than 2 percentage points above the 4.5 percent target. Two-year break-even rates, based on the difference in nominal and inflation-linked bonds, rose 0.01 percentage point to 7.09 percent Wednesday.
The central bank press office declined to comment when asked about the market outlook on inflation.
Consumer prices surged 8.24 percent in mid-April from the year before, the biggest increase in more than a decade and above the target range for the fifth consecutive month.
The higher cost of living coupled with a rising jobless rate has sapped the economy of strength, leading to a first-quarter contraction of 0.2 percent.
Analysts surveyed by the central bank estimate gross domestic product will shrink 1.3 percent this year, which would be the worst performance since 1990.
Goldman Outlook
While central bank director Tony Volpon said last month the board would focus on inflation rather than rising unemployment, economist Alberto Ramos says investors remain skeptical about policy makers' commitment to their target. Tombini during his second year in office cut rates to a record low to stimulate lagging growth.
"The central bank has tended in the past to accommodate above-target inflation," said Ramos, the chief Latin America economist at Goldman Sachs Group Inc. "The market is probably waiting to really believe that it will be possible to realign inflation to target by the end of next year."
Before it's here, it's on the Bloomberg Terminal.
LEARN MORE