Blatter Lieutenant Valcke Denies $10 Million Payment Was Bribe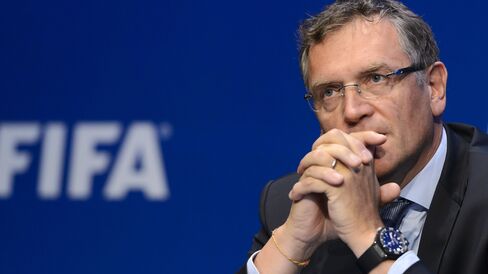 Sepp Blatter's top lieutenant denied that he authorized a $10 million bribe on behalf of South Africa's successful 2010 World Cup bid.
Jerome Valcke, secretary general at soccer governing body FIFA, said he had done nothing wrong and had no reason to resign.
"I don't understand what would be my role in a corruption case," Valcke said in an interview with French radio station France Info.
A U.S. Department of Justice indictment says a "high-ranking FIFA official" made the $10 million payment from the ruling body to accounts in New York that were overseen by Jack Warner, the former head of the Central American and North American soccer confederation, or Concacaf. Valcke was the FIFA official, a person familiar with the matter said Tuesday.
U.S. prosecutors accuse former FIFA vice president Warner of arranging the payment in exchange for his support of South Africa's bid. The Department of Justice indictment accuses 14 soccer officials and marketing executives of corrupt behavior stretching back more than two decades.
Valcke's boss Blatter appeared at a hastily convened press conference yesterday to announce his resignation four days after being re-elected for a fifth term as president of FIFA.
Valcke said the $10 million transfer was initiated by the South African government and was approved by FIFA's finance committee because the secretary general doesn't have the power to authorize such a payment.
Middle Man
"We were just in the middle to make a transfer that was approved by the finance committee," he said.
A statement released by FIFA two days ago named its former finance committee head, the late Julio Grondona, as authorizing the $10 million payment.
The payment to the Caribbean Football Union was "above board" and "does not equate to bribery," South African Sports Minister Fikile Mbalula said.
Chuck Blazer, the No. 2 in Concacaf from 1990-2011, told a U.S. federal judge in November 2013 that he and others on FIFA's executive committee agreed to take bribes to vote for the South African bid.
Blazer Admission
"Beginning in or around 2004 and continuing through 2011, I and others on the FIFA executive committee agreed to accept bribes in conjunction with the selection of South Africa as the host nation for the 2010 World Cup," Blazer told U.S. District Judge Raymond J. Dearie, according to a transcript of the hearing.
Blazer pleaded guilty at the hearing to 10 counts including racketeering and tax evasion. The most serious charge carries a maximum sentence of 20 years in prison.
Valcke said the new FIFA president, who will be chosen at an emergency congress to be held between December and March, will decide whether he should remain as secretary general.
"I have no reason not to stay secretary general because of what happened in the past few days, because I have no responsibility and I've done nothing wrong," Valcke said.
Former marketing director Valcke was promoted to secretary general by Blatter eight months after being rehired by the president following a suspension for leaking details of World Cup sponsorship talks with MasterCard Inc. to its rival, Visa Inc.
In 2007, FIFA agreed to pay $90 million to settle the case with MasterCard Inc., which had been a World Cup sponsor for 16 years before losing the contract to Visa, according to court records.
In 2012, Valcke angered the Brazilian government by telling reporters the country needed a kick "in the ass" as preparations for the 2014 World Cup there were behind schedule.
The case is U.S. v. Webb, 15-cr-00252, U.S. District Court, Eastern District of New York (Brooklyn).
Before it's here, it's on the Bloomberg Terminal.
LEARN MORE