Bets for Calmer Stock Market Defy Draghi Volatility Warning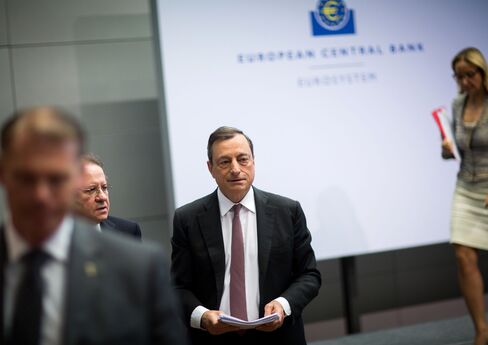 Mario Draghi says markets may have to get used to more volatility. Stock investors are expressing no such concern.
They're betting equity swings will fade with Greek worries, letting traders turn their focus to the economy and earnings growth. According to the options market, expectations for Euro Stoxx 50 Index volatility in the next three to six months are at their lowest levels since January.
Notwithstanding Draghi's warning, optimism is growing that the European Central Bank president's quantitative-easing program will succeed in bolstering the region's recovery.
"An agreement on Greece is imminent, and the underlying economy is going to pick up in Europe," said Patrick Spencer, equities vice-chairman at Robert W. Baird & Co. in London. "Equities will continue to do better. Everything looks like it's going to work."
Draghi said on Wednesday that the economic recovery is on track, forecasting euro-area growth of 1.5 percent for this year and 2 percent by 2017. He pledged ECB asset buying will continue for an average of 60 billion euros ($68 billion) a month through September 2016. The Euro Stoxx 50 ended the day up 0.6 percent, the most in a week. It slipped 0.8 percent today.
Draghi's comments on market volatility came after a debt rout last month spread to equities, helping push intraday stock swings to the highest levels since January. The ECB president suggested the improving economic and inflation outlooks in the euro area were among reasons that could have spurred the bond selloff.
Greek Negotiations
The back-and-forth talks over Greece exacerbated the moves. The nation, which needs to pay almost 1.6 billion euros to the International Monetary Fund this month, has been negotiating a bailout agreement with creditors for four months. Now German Chancellor Angela Merkel has stepped in to resolve the stalemate, and Draghi called for a "strong agreement."
With the Euro Stoxx 50 alternating between weekly gains and losses since mid-April, its implied volatility -- or bets for future stock swings -- have jumped more than 50 percent from a low that month, according to one-month options. The measure has climbed less than half as much for three- and six-month contracts.
Investors' optimism won't last, says Michael Ingram, a market strategist at BGC Brokers in London.
Rate Increase
"No sooner will we have resolved Greece, we will then have to contend with the prospect of Fed rate liftoff and what seems to be broadening growth fears," Ingram said. "So, plenty of tripwires are out there for the unwary."
The Federal Reserve has signaled it will go ahead with a rate increase this year, even as economic reports suggested a worsening U.S. economy in the first quarter.
European shares are rallying nevertheless, with the Euro Stoxx 50 up 14 percent in 2015. Greece's ASE Index jumped the most since April on Wednesday and is among the best performing western-European gauges this quarter.
"A Greek default should not affect investors a lot because the amounts at stake aren't huge," said Pierre Mouton, who helps oversee $8.3 billion as a money manager at Notz, Stucki & Cie. in Geneva. "If the Greek situation clears up, we'll see more optimism in Europe, and probably equities up."
Before it's here, it's on the Bloomberg Terminal.
LEARN MORE