Scene Last Night: Rudin, Tisch, Ouderkirk at SeaGlass Carousel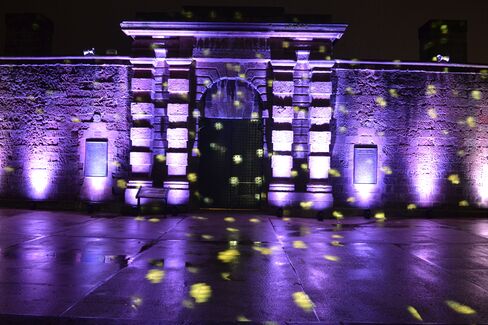 Castle Clinton in the Battery glittered Monday night. In front of the national monument, built as a fort and used for a time to process immigrants, were: a disco ball, three cotton candy machines, a dance floor, a birthday cake and the real estate and civic leader Bill Rudin.
Rudin had agreed to celebrate his 60th birthday at the Battery Conservancy's annual gala, held in the Lower Manhattan park it manages, and like so many Americans drawn to the spot, he had a story to tell. His great-grandparents arrived at Castle Clinton in the 1880s, two years apart. They later ran a dry-goods store on Chrystie Street and produced nine children. They also saved enough to buy their first piece of land, now home to a Lexington Avenue office building owned by Rudin Management Co.
Rudin is the firm's chief executive officer and chairman of the Battery Conservancy, continuing his family's business and tradition of public service. His father Lewis Rudin, who helped New York avoid financial disaster in the 1970s, promised Battery Conservancy founder Warrie Price that his son "won't leave you 'til it's done," she recalled.
Twenty years later, the park is not only home to Castle Clinton, where tourists buy tickets for the Statue of Liberty, it also hosts an urban farm and wildflower gardens created by Piet Oudolf.
At the gala, guests also got to preview a new attraction: the SeaGlass Carousel, which is scheduled to open in mid-July. Housed in a structure that resembles a nautilus shell, the carousel offers an ocean journey from the perch of a glass fish. Light shows and original music compositions aid the trip; one riff on Mozart features the sounds of dolphins.
Luminous Fish
During cocktails, Rudin took his granddaugther Elle on the carousel and her face lit up. Mort Zuckerman said he couldn't wait to take his 6-year-old daughter there.
"It's just another ordinary place that I'll go to," Zuckerman said in an impressive deadpan, given the "oohs" and "aahs" of other guests at the sight of luminous giant fish bobbing up and down on a moving platform.
The birthday cake was a replica of the carousel, with a big fish on top, and it came out with sparklers on it after Rudin's remarks and tributes to him by Price and Loews Corp.'s Jonathan Tisch.
Then the more than 800 guests left their dinner seats and drew nearer to Castle Clinton to dance to "Grease Is The Word" and "Rude" by Magic! They were celebrating a birthday, after all (it was actually in April) as well as a record amount raised: $2.5 million.
Spotted on the dance floor: Jerry Ouderkirk of Goldman Sachs, First Data CEO Frank Bisignano, many members of the Rudin family and David Monn, who designed the event. Also attending: Susan and Alan Patricof, Barbara Tober, Jim Tisch, Danny Meyer, Fernanda Kellogg and Helene Comfort.
Before it's here, it's on the Bloomberg Terminal.
LEARN MORE