SARS-Scarred Chinese Look Askance at Kimchi Shield: Opening Line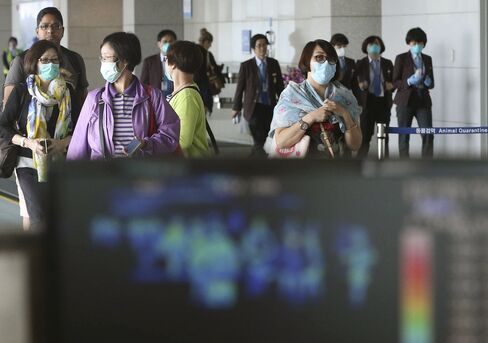 Remember SARS? Neither does South Korea. It's getting a remedial crash course in disease-control protocols, though.
The country reported its first deaths from Middle East respiratory syndrome, or MERS, yesterday and said the country now has two cases of so-called tertiary infections -- patients who had no contact with the original source.
China also has its first MERS case, thanks to its neighbor. A South Korean man who was supposed to have been under medical surveillance was allowed to hop on a plane to Hong Kong last week and then caught a bus to Huizhou on the mainland side of the border.
The man told a nurse who stopped him at a health checkpoint in Hong Kong's airport that he felt fine, even though he had a fever, the South China Morning Post reported. He's now in hospital in China.
That earned South Korea a rebuke from China's state-run Xinhua News Agency for the "bungling" of its initial response. China presumably has learned a thing or two since its own response to SARS.
It's all adding up to a bad couple of weeks for South Korea. Chinese visitors are scrapping their cosmetics-buying trips, sending tourism shares slumping. Hana Tour Service dropped 8.9 percent yesterday after saying 300 Chinese tourists canceled a tour this week.
This comes at a time when trade is already sagging under the weight of the won's strength against the yen and euro, with exports falling the most in almost six months in May. Hyundai Motor shares plunged 10 percent yesterday after its domestic sales were eroded by imported cars.
For anyone who remembers the severe acute respiratory syndrome outbreak, China's skittishness isn't hard to understand. It was a scary time, in Hong Kong at least. The city was in face masks for weeks, bars and restaurants were empty, public transport was largely deserted. Property prices fell to less than a quarter of their current level (not everything was bad).
SARS and MERS share similarities. Both are coronaviruses, which mainly infect the lungs and gastrointestinal tract, and both came from animals: camels in the case of MERS, bats in the case of SARS. Still, MERS is less infectious so a SARS-like outbreak looks unlikely.
Perhaps South Korea became blase about disease outbreaks. How so? Cabbage, in a word.
The country dodged the SARS epidemic in 2003, an escape that some attributed to the magic powers of kimchi, the spicy fermented cabbage dish that's a Korean specialty. Among its other cure-all properties, kimchi has also been touted by South Korean scientists as a possible treatment for bird flu.
Looks like MERS was a step too far. Kimchi hasn't helped much with the won, either.
***
Australia's first-quarter GDP is the highlight of the economic calendar in Asia this morning and is scheduled for release at 9:30 a.m. Hong Kong time. Other indicators include the HSBC China services PMI and New Zealand's ANZ commodity price index.
There are no earnings reports of note in Asia.
The main focus in Europe will be on the ECB's monetary-policy decision. Economic indicators scheduled for release include euro-area unemployment and retail sales.
Voestalpine is among companies scheduled to report earnings.
U.S. economic indicators tonight include ADP's estimate of private nonfarm payroll growth, the April trade balance and the ISM nonmanufacturing index. The Fed's Beige Book is also released.
There are no major earnings reports scheduled.
***
- Blatter quits as FIFA president. - Hundreds still missing after Chinese cruise ship capsizes. - Bernanke says yuan is heading toward fair value. - India's tech boom lures America's unwanted Ivy League graduates. - Ctrip sinks after Qunar rejects buyout offer. - China's premier sees red as bureaucracy strangles reform. - Hong Kong can't build ultra-luxury apartments fast enough to keep up with the growth in Chinese billionaires. - HSBC prepares to cut thousands of jobs in strategy revamp. - Private-equity investors who sold early in China taste regret. - Takata air-bag defects linked to moisture. - China's Internet chief wants to purge cyberspace of dirty words. - PBOC embarks on its own operation twist. - Aussie's surge confounds Stevens's appeals. - India's bond investors say Rajan is too cautious. - Nintendo dismisses report it plans to adopt Android. - Australian bankers come together to help the needy. - Silver Lake places another bet on China's Internet after making sixfold return on Alibaba. - China property sales rebounded in May. - Why are Indian companies buying so much land in Ethiopia? - Japan's cartoon robot cat wins Chinese hearts. - Hong Kong to vote on election plan on June 17. - Delayed power plant belies Indonesia optimism. - Pakistan fails in attempt to teach children Mandarin (good to know it's not just us). - Kim Jong-un is putting on more weight. - Nintendo struggles to create world championship buzz. - China's tallest building is finally ready. - Aggressive "walking fish" heads toward Australia.
***
Get your reading glasses out folks, because there are some fascinating stories you'll want to get through today.
First up is a good old-fashioned whodunit from Christopher Leonard. He takes us down a series of winding country highways to a giant industrial chicken coop tucked away between a patch of forest and an empty farm field in South Carolina. That's the scene of the crime, where thousands of birds were killed. Well, to clarify: They were killed before they were supposed to be killed! And then presumably plucked, then rubbed with a nice mix of paprika, garlic, black pepper and roasted for... wait, what were we talking about again? Oh yeah, the monsters who killed a bunch of chickens before it was time to eat them.
And get this: It wasn't the only horrible poultry crime scene. About 320,000 birds were murdered in Clarendon County over the next week. Leonard's story gives all the details on the investigation and the cut-throat nature (pun intended) of the chicken farming industry that may explain the motives of the poultry-purging perpetrator.
After that, be sure to read Dakin Campbell's tale of a 99-year-old financial adviser, who admits letting the Big One slip away: "I missed Apple totally," says Irene Bergman. Michael Moore and Andrew Ross Sorkin have pieces out about the tragic case of the young banker who struggled with quitting Goldman Sachs before his death. Here's Moore's, and here's Sorkin's.
As for the markets, bonds were the focus as Treasuries fell by the most in two weeks while a European bond market selloff worsened. U.S. stocks poked their heads above water in the middle of the day but ended lower.
JPMorgan's getting rid of voicemail. HSBC's getting rid of bankers. Stan Wawrinka got rid of Roger Federer in the French Open. Amazon.com got rid of shipping charges on small items.
And health experts have figured out how much time you should sit each day, so isn't it about time you stood up and got rid of us?
***
What's your image of the typical investor in Shanghai stocks through the Hong Kong exchange link? Here's one: office worker, 28 years old, entering orders through an online account from his home computer. In Shanxi.
Wait, what? Stephen Qin is one of 15,000 accounts belonging to mainland Chinese at Bright Smart Securities and Commodities Group. He traveled 1,000 miles to set up an account in Hong Kong to trade stocks that he could have bought at home, as Alfred Liu and Eduard Gismatullin report today.
Why bother? It's cheaper. Hong Kong brokerages offer discounts on trading commissions, lower margin-financing charges and allow investors to borrow higher amounts for trading.
The city's securities firms are finding a niche catering to Chinese investors. Bright Smart says business from mainlanders has increased 10 times. The brokerage even offers to reimburse HK$10,000 ($1,290) of travel costs to Hong Kong.
So it seems that the Hong Kong-Shanghai exchange link may not be quite what it was billed to be. The idea was to open a channel into China's partially closed capital account, allowing investors in Hong Kong to buy stocks traded in Shanghai and vice versa.
Instead, it looks like Hong Kong investors are using the link to buy shares in Shanghai, and mainland investors are also using the link to buy shares in Shanghai, posing as Hong Kong investors. No wonder the northbound route has been getting more action than the southbound channel.
It might also explain why the valuation differential between Chinese stocks listed in Shanghai and Hong Kong hasn't been arbitraged away, as some predicted when the link started. Shanghai and Shenzhen are where the action is: Why go looking elsewhere when the action is so hot at home?
***
England's secret weapon failed to fire on the final day of the second test against New Zealand, as the team crumbled to 255 all out while attempting a record run chase of 455.
No, we're not talking about Ben Stokes or Joe Root, who promised to go in with "all guns blazing." We're talking about the weather. The rain came down on day four, though there was no such respite on the final day.
After the unexpected victory at Lord's, England look to be reverting to type, which doesn't bode well for the Ashes. There's still time to turn things around, though. How does that cloud-seeding thing work again?
Before it's here, it's on the Bloomberg Terminal.
LEARN MORE