Recession-Averse Fed Seen Triggering U.S. Stock Gains Into 2016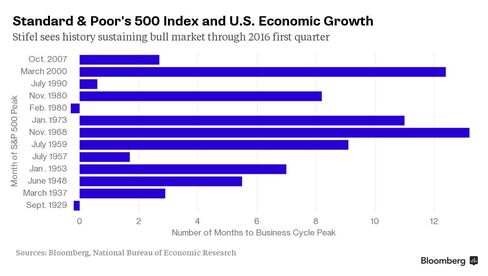 Federal Reserve efforts to avoid triggering a recession before the next presidential election will sustain the bull market in U.S. stocks into next year, according to Barry B. Bannister, a strategist at Stifel Financial Corp.
The attached chart shows the amount of time between peaks in the Standard & Poor's 500 Index and the start of recessions, according to data compiled by Bloomberg and the National Bureau of Economic Research.
Since 1929, the S&P 500 has reached highs about six months before the economy began contracting, give or take five months. This track record indicates stocks will advance into the first quarter of 2016, or 11 months before a potential recession in 2017, Bannister wrote in a May 29 report.
"The Fed has a bulls-eye" on its back after monetary policy supplanted fiscal policy as a catalyst for the current economic expansion, the Baltimore-based strategist wrote. "We doubt the Fed wishes to cause (be blamed for) a recession in an election year."
By the year after next, the central bank's target rate for overnight bank loans may exceed the pace of inflation by a wide enough margin to bring about a contraction, Bannister wrote. He cited a gap of 1.5 percentage points as a trigger, based on the economy's performance since 1980.
Fed policy makers see the federal funds target rate rising to 3.125 percent in 2017, according to the average estimate in a March survey. An inflation gauge linked to consumer spending and excluding food and energy prices will remain around 1.5 percent, Bannister wrote. Prices rose 1.2 percent on that basis for the 12 months ended in April.
Before it's here, it's on the Bloomberg Terminal.
LEARN MORE