One-Hundred-Year Bond Marks Petrobras's Bold Return From Scandal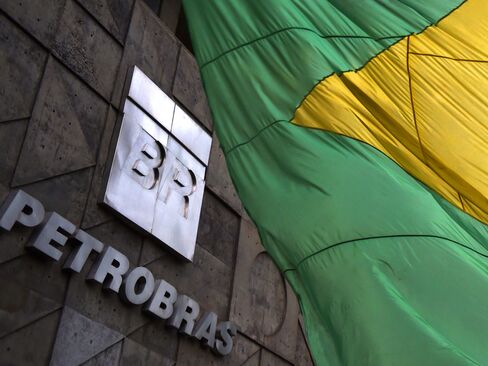 Petroleo Brasileiro SA's eventual return to the bond market was expected by most investors to be a modest-scale, confidence-building affair.
After all, this was a company tarnished by a kickback scandal that cost it billions in writedowns and a downgrade to junk. Instead, Brazil's state-controlled oil producer surprised investors Monday with the sale of $2.5 billion of 100-year bonds, making it the first emerging-market company to issue such long-dated notes since 1997.
The sale is the latest attempt by Petrobras to put the scandal behind it six months after being locked out of overseas bond markets following a probe into executives who allegedly took bribes in return for contracts. The company sold the notes due in 2115 to yield 8.45 percent -- 0.4 percentage point less than the initial price guidance from bankers.
"Petrobras is desperately trying to rehabilitate itself, and selling dollar-denominated debt is a crucial part of this process," Nicholas Spiro, managing director of Spiro Sovereign Strategy in London, said in an e-mail. "It's a gutsy move given the reputational damage."
Petrobras confirmed the terms of the deal in a press release published in its website on June 1 after markets were closed.
The bonds gained in their first day of trading, sending yields down to 8.37 percent as of 4:02 p.m. in New York.
'Good News'
The operation was "good news" and could pave the way for other Brazilian companies to sell debt, Finance Minister Joaquim Levy told reporters at an International Monetary Fund event in Washington on Monday.
Still, it didn't come cheap.
Its notes were issued to yield 2.87 percentage points more than Mexico's dollar-denominated 100-year bonds. The country has sold century bonds abroad on five occasions since 2010 in three different currencies. Standard & Poor's rates Mexico two levels above Petrobras; Moody's Investors Service puts it five steps higher.
Moody's cut Petrobras to junk in February because of its failure to release audited financial results. After a five-month delay, Petrobras finally published its third- and fourth-quarter earnings on April 22, reporting a corruption-linked writedown of 6.2 billion reais ($2 billion) and a 44.6 billion-real impairment, mainly from overpriced and unfinished refinery projects.
Petrobras has been the biggest corporate-bond issuer in emerging markets during the past four years, raising a total of $40 billion.
'Extreme Event'
"This is one of those transactions that are reminiscent of similar episodes of the past when a large, well-known issuer comes back to the market after some sort of extreme event," said Ian McCall, a money manager at Quesnell Capital SA in Geneva. "There is a natural home for those types of long-tenor century notes in the hands of matched-liability investors: insurance companies, pension funds and the like." Quesnell bought the Petrobras bonds.
Patrik Kauffmann, who helps manage $11.2 billion at Solitaire Aquila, said he stayed away from the bonds because longer-term debt will be more vulnerable when the Federal Reserve raises interest rates.
"The rate sensitivity can result in huge losses," he said in an e-mail from Zurich. "The world is waiting for a rate increase in the U.S."
Before the sale of 100-year bonds, Petrobras's longest-dated dollar debt matured in 2044. And while yields on those notes have dropped 1 percentage point from a record high in March to 7.57 percent, they're still well above the 5.9 percent low reached in August.
Oil Prices
Petrobras, the most-indebted global oil company, with $133 billion in obligations, is struggling to reduce leverage and boost production in deep waters amid a slump in oil prices. It had relied on financing from Brazilian and Chinese banks this year, raising $9.6 billion from such lenders.
The 100-year-bond offering attracted more than $7 billion of bids, said a person familiar with the matter who asked not to be identified because the information isn't public.
"I'm impressed by the amount of demand they got," Joe Kogan, head of emerging-markets strategy at Bank of Nova Scotia in New York, wrote in an e-mailed response to questions. "Despite the company's problems, it seems many investors have faith in the outlook for oil prices and the company's long-run ability to drill for oil."
Before it's here, it's on the Bloomberg Terminal.
LEARN MORE