In New York on Saturday morning, it was already hot and humid by 10 a.m., and Clifford Barnes was reevaluating his decision to be the very first person in line for the Nintendo World Championships. He had been standing on the concrete outside a Best Buy in western Queens since five o'clock the previous afternoon after spending hours on trains traveling from his home in New Jersey. "I felt like a rat in a maze on the subway," said Barnes, 33, looking weary. Perhaps 40 hours of consecutive consciousness was not the best preparation for something that relies on quick reactions and moving your fingers really, really fast.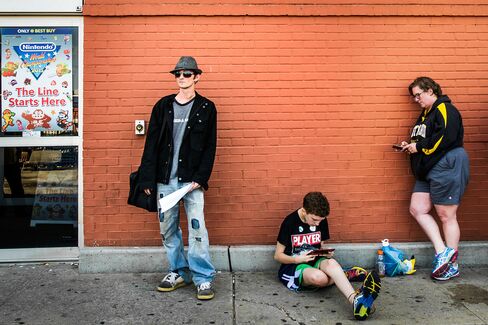 Nintendo had warned that only the first 750 people to arrive would be able to compete in the tournament, and a blocklong line stretched out behind Barnes by the time the doors finally opened. Young men furiously tapped out some last-second practice on their portable Nintendo consoles, while parents quietly coached their children. One competitor recorded everything from a GoPro camera he had strapped to his forehead.
But inside, the early excitement fizzled out. The event ended up drawing only about 250 entrants in total, petering out long before the official ending time of 7 p.m. Employees for Nintendo spent the last few hours of the day milling around and trying to persuade random shoppers that it'd be fun to enter. Barnes wouldn't have had a problem even if he had slept in.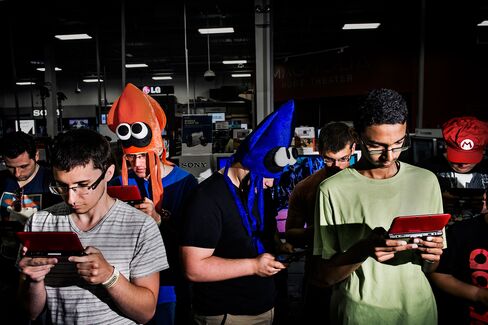 Once upon a time, Nintendo was an early leader in what is now known as e-sports. Gamers of a certain age will remember The Wizard, a feature-length film about a video game competition that came out in 1989 and starred Fred Savage. The following year, Nintendo held a real-life tournament based on the movie, drawing gamers in more than two-dozen American cities to compete in three different age groups. Nintendo held another heavily promoted tournament several years later. But by the time competitive gaming really took off in the last decade, the company had lost interest. It is now bounding back on the scene with all the enthusiasm of your most clueless uncle:
https://www.youtube.com/watch?v=zbvzyY1FKr0
On May 13, Nintendo announced that the second incarnation of the Nintendo World Championships would appear at this month's E3 Expo in Los Angeles, one of the gaming industry's biggest annual events. On the weekend, the first round of competition took place at eight Best Buy stores across the country. Each location declared a winner, and the company is paying for the victors' travel to Los Angeles for the championship on June 14. Nintendo also held a tournament at last year's conference, although it hand-picked the players who participated from among the ranks of competitive gamers specializing in the Super Smash Bros. games. This year, Nintendo is trying to create at least the appearance of a widespread search for the most-skilled player in the country.
The idea that video game tournaments can be something akin to large-scale sporting events is no longer novel. A global audience of 134 million people watch competitive gaming, and the e-sports industry generates more than $600 million in revenue, according to research firm SuperData. At the peak of last year's League of Legends championship, run by Riot Games, 11.2 million people were watching the event at once, and the average online viewer stayed tuned in for 67 minutes. Most gaming publishers now recognize e-sports for what it is: a chance for a bunch of free publicity. Coca-Cola now sponsors League of Legends tournaments, and Red Bull also sponsors e-sports events. Clearly these companies see a connection between intense video gaming and being all hopped up on caffeine.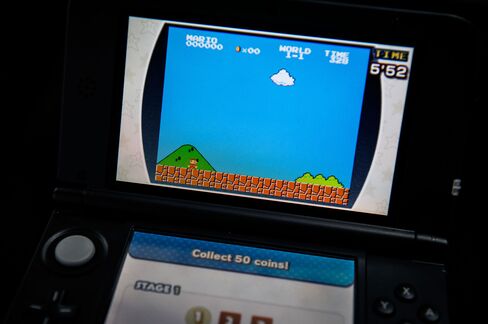 Nintendo's games, particularly Super Smash Bros., have been part of the competitive gaming scene for years. But the company hasn't always seen this as a good thing. When Evo, a long-running gaming tournament in Las Vegas, included Super Smash Bros. on its roster in 2013, Nintendo told the organizers they couldn't stream the competition online. The spat, along with Nintendo's crackdown on people posting videos of Nintendo gameplay on YouTube and its persistent refusal to make games for smartphones, reinforced its reputation as a place that didn't understand its customers.
This has corresponded to a striking lack of financial success. Nintendo's sales have dropped five years in a row, and it has lost $495 million over the three years that ended last March. Sales of its Wii U console, released in 2012, have been disappointing. But Nintendo has been riding high since saying in mid-March that it would begin making smartphone apps. Its stock is up more than 50 percent since the announcement.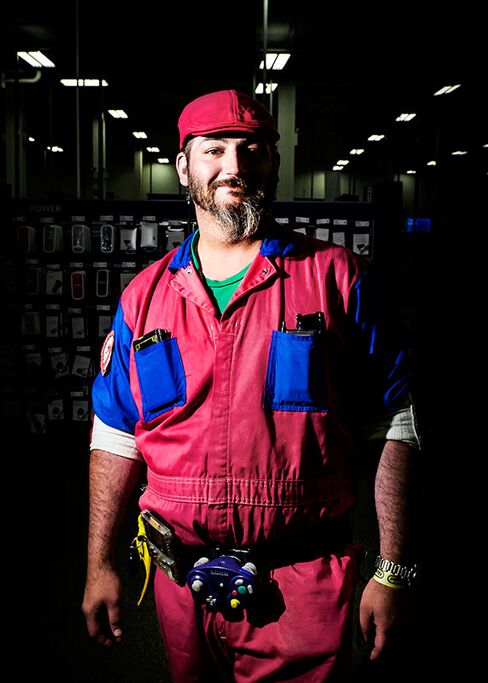 The company is also trying to connect better with its most enthusiastic fans. After a public backlash surrounding the Evo tournament, Nintendo relented and let the organizers carry on as planned, then sponsored the event in 2014. Tom Cannon, Evo's founder, says that Nintendo's attitude towards e-sports is now the complete opposite of its early hostility. Nintendo announced a program to share revenue from YouTube clips of Nintendo gameplay with the videos' creators—although Youtube users whose game-related videos have drawn large followings still complain about the terms.
"The environment has dramatically matured, in such a way that Nintendo has said, OK, we need to actually do something here," says Sundance DiGiovanni, the chief executive of Major League Gaming, a professional e-sports organization. "It's happening slowly over the last couple of years." Nintendo declined to comment for this story.
At the Best Buy on Saturday, a section near the home theater department had been cordoned off for the players. The first batch of 15 players were ushered in just after 10:00 a.m., where they were packed in elbow-to-elbow and handed portable consoles loaded with NES Remix, a game featuring a competition based on Super Mario Bros., Super Mario Bros. 3, and Dr. Mario. One player stripped off a Mario Brothers hoodie and handed the sweatshirt to his girlfriend. He was wearing an identical Mario Brothers T-shirt underneath. Six minutes later they were done, their scores were recorded, and the entire experience was over. Barnes stood around, taking in the anticlimax with a dazed look on his face. He confessed he wasn't very happy with his score.
Major gaming tournaments are structured like sports leagues, with brackets, teams, and competition carefully calibrated to be fair. Players at Saturday's event said that the Nintendo World Championship seemed unserious by comparison. Sean Sullivan, a 33-year-old mail carrier dressed in a head-to-toe Mario outfit that had a tool belt full of five Nintendo 3DS consoles and a Gameboy, said he mostly came to see other Nintendo enthusiasts. He shrugged off an unimpressive score. "I'm not a terribly competitive person," he said.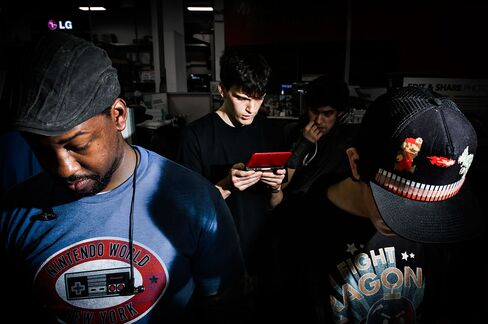 The same couldn't be said of John Goldberg, a 23-year-old Queens native who described himself as a competitive Smash Bros. player. He stood as the leader, with a score of 4.7 million, after taking his turn around 11 a.m. "I did have a great run, but it could have been so much better. I just didn't go as fast as I could have," he said.
Eight hours later, Goldberg was declared the winner. But he wasn't around to celebrate, and a representative from Nintendo had to call him on the phone to let him know he would be going to Los Angeles. He had left hours earlier to a nearby mall to play in another tournament.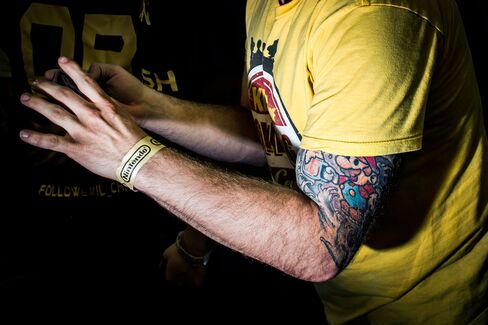 Before it's here, it's on the Bloomberg Terminal.
LEARN MORE