Hyundai Motor Falls to Lowest Since 2010 After Sales Slump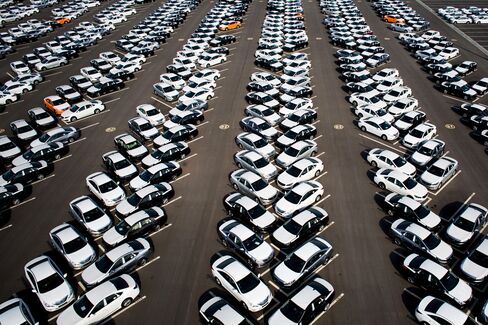 Hyundai Motor Co. fell to the lowest level in almost five years in Seoul trading after the Korean carmaker's domestic sales declined for a second month.
Hyundai dropped 10 percent to 138,500 won at the close in Seoul trading, the lowest since August 2010. The company said Monday its South Korean deliveries in May fell 8.2 percent from a year earlier, while overseas sales declined 6.1 percent.
The carmaker failed to boost deliveries at home even after offering price cuts on most models as well as interest-free loans, a sales tactic it last used during the Asian financial crisis almost two decades ago. In overseas markets, a weaker yen gave Hyundai's Japanese rivals a competitive edge.
"There's no hope for improvement in coming months with no major new products lined up," Lee Jin Woo, a money manager at KTB Asset Management Co., said by phone in Seoul. "Hyundai may try to boost incentives, but that'll hurt its brand power, a dilemma for the company."
Hyundai affiliates also slumped. Shares of Kia Motors Corp. fell 4.1 percent, while parts makers Hyundai Mobis Co. and Hyundai Wia Corp. dropped 8.5 percent and 12 percent, respectively.
Imported cars have gained in popularity among Korean customers as they've become more affordable, helped by free-trade agreements with the U.S. and the European Union. BMW, Mercedes-Benz and Toyota collectively posted a 33 percent gain in deliveries in South Korea in the first quarter, according to data from the local vehicle importers association.
Ssangyong Motor Co., Renault SA's Korean venture and Kia also registered gains in the period, while Hyundai's sales fell 3.4 percent.
Won, Yen
The won has declined 1.9 percent against the U.S. dollar this year, while the yen fell 3.9 percent, according to data compiled by Bloomberg. Japan's currency on Tuesday weakened past 125 per dollar for the first time since 2002.
Hyundai's domestic market share sank to 32 percent in January, the lowest in at least 15 years, amid rising competition from foreign brands. Hyundai's deliveries have also declined this year in China, the company's biggest market, while gains in the U.S. have come on the back of a surge in incentives. The company plans to continue local marketing efforts to boost Korean sales, it said in a statement Monday.
South Korea accounted for 46 percent of the automaker's annual revenue and 34 percent of total production in 2014, according to company figures and data compiled by Bloomberg.
Before it's here, it's on the Bloomberg Terminal.
LEARN MORE