Greece Redirecting European Bank-Buffer Funds: How It Might Work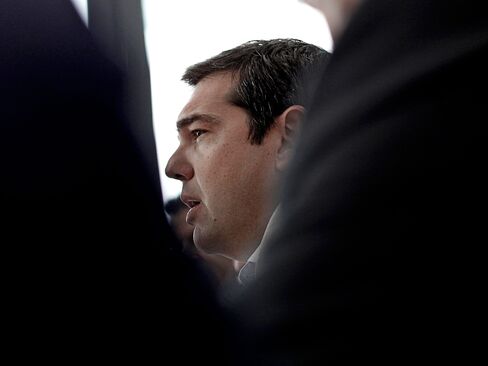 As Greece's financial health gets ever more parlous, the option of using bank-bailout funds for purposes other than bolstering the country's lenders looms large. Here are some pointers on how it might work and background:
* Any euro-area decision to let Greece redirect funds allocated for bank recapitalizations would require unanimous approval by the 19-nation currency bloc's finance ministers.
Of the 240 billion euros ($263 billion) in international aid pledges for Greece since 2010, 50 billion euros have been set aside exclusively for Greek lenders. The bank-rescue package has 10.9 billion euros of leftover funds, which are parked at the European Financial Stability Facility in Luxembourg.
http://www.bloomberg.com/graphics/2015-greece-default/embed20150602.html?
The euro area might allow Greece to use 9 billion euros of unused bank-rescue funds for current expenditure as the anti-austerity government of Prime Minister Alexis Tsipras seeks to avert a default, Spain's Cadena Ser radio reported on Tuesday, citing European officials it didn't identify. This step would allow the existing aid program for Greece to be extended for several months beyond June, according to Ser, which said Tsipras would have to accept 70 percent of the creditors' conditions in return.
A spokesman for the EFSF declined to comment on the Ser report when reached by telephone.
* Should the euro area opt to let Greece use any of the 10.9 billion euros of unused bank-recapitalization funds for other purposes, parliamentary approval would also be required in some countries, including Germany and the Netherlands. That's because the step would involve a change in the terms for using aid controlled by the EFSF, the euro area's temporary rescue fund.
Under the current terms for using the 10.9 billion euros, the money can go only for bank recapitalization and resolution costs and any release of it requires both a request from the European Central Bank and the unanimous approval of euro-area finance ministers.
* The idea of using the buffer for other purposes has been floated before. Last year, as the previous Greek government under Premier Antonis Samaras was seeking to exit the country's rescue and replace it with a safety net known as a precautionary credit line, the possibility was raised of using the recapitalization funds for the safety net.
For more on Greece, read this next:
Before it's here, it's on the Bloomberg Terminal.
LEARN MORE