Ford Shortens Summer Shutdown to Satisfy Truck Demand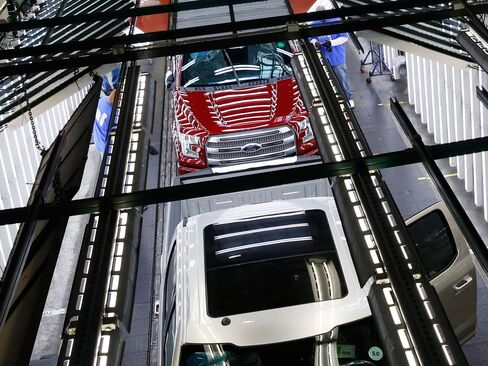 Ford Motor Co. is shortening summer vacation for workers at 14 North American factories to meet growing demand for sport-utility vehicles and its new aluminum-bodied F-150 pickup.
To churn out an extra 40,000 vehicles, Ford is cutting the second half of a planned two-week break that starts June 29, according to an e-mailed statement. The change affects five assembly plants and nine parts factories for models such as the Explorer, Edge and Escape SUVs, as well as the F-150, Ford's top seller and biggest moneymaker.
The second-largest U.S. automaker is responding to rising demand for bigger vehicles as gasoline prices stay relatively low. A gallon of regular gas averaged $2.75 Tuesday, down 25 percent, or almost $1, from a year earlier, according to AAA. By contrast, Ford this month is cutting a shift of 700 workers at a factory that makes small cars and hybrids.
"To meet surging customer demand for our top-selling trucks and utilities, we are continuing to run our North American facilities during the traditional two-week summer shutdown," Bruce Hettle, Ford vice president of North American manufacturing, said in the statement.
The assembly plants that will be idled for just one week are Chicago, Dearborn Truck in Michigan, Kansas City in Missouri, Louisville in Kentucky, and Oakville in Ontario, the company said.
Quick Sellers
The new F-150 is selling in an average of 20 days after it reaches dealer lots, while the redesigned Edge is moving in 10 days, Ford said. Dealers typically keep a 60-day supply of vehicles in stock.
Ford said in April that it planned to boost North American production in the second quarter by 13,000 vehicles, or 1.6 percent, to 815,000 cars and trucks. The Dearborn-based company said the additional output announced Tuesday was included in its April financial forecasts.
Ford is about to enter talks with the United Auto Workers union to replace a contract that expires in September. The automaker wants to lower its labor costs, which it says are uncompetitive. Ford's average U.S. hourly labor expense, including benefits, is $57, about $9 more than at Toyota Motor Corp. and Fiat Chrysler Automobiles NV's U.S. unit, according to the Center for Automotive Research in Ann Arbor, Michigan.
(Company corrects number of factories increasing output in the first, second and fifth paragraphs.)
Before it's here, it's on the Bloomberg Terminal.
LEARN MORE