For Italian Stocks, Bullishness More Contagious Than Greece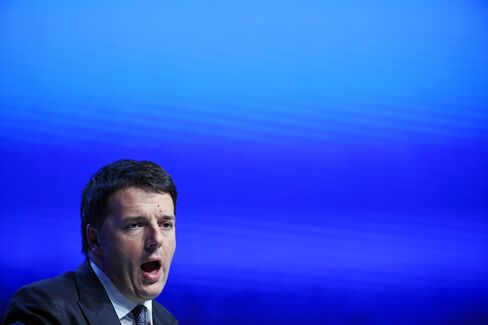 While European shares fall amid Greek debt wranglings, one market in the region stands out: Italy.
Investors are paying the least in four years to hedge against the nation's stock swings relative to the broader market, signaling that the FTSE MIB Index's record 24 percent advance in 2015 may have more rally in it yet.
Central-bank stimulus and Prime Minister Matteo Renzi's policies are helping the recovery, fueling optimism about a market that lost more than 70 percent of its value during the financial crisis. Now, equity bulls are shaking off worries that Greece's woes will spread to the country with the second-highest debt levels in Europe.
"The fear of contagion has been reduced severely," said Lorne Baring, who helps oversee $500 million at B Capital SA in Geneva. "Italy is one of the strongest countries in the periphery and one of the biggest beneficiaries of the ECB's QE program. With data showing Europe is healing, it's likely Italy will continue to benefit."
Italy is among the best-performing developed markets this year, and the FTSE MIB's rally is almost double the advance of the Euro Stoxx 50 Index. While benchmark gauges of Germany and France fell on Tuesday for a third time in four days, the Italian measure climbed. It was little changed on Wednesday.
The most-owned bullish options on the FTSE MIB are wagering on a 3.9 percent increase by June 19.
Growth Revival
Since coming to power in February of last year, Renzi has implemented reforms to revive growth, including an overhaul of the labor market. Gross domestic product expanded more than forecast in the first quarter, paving the way for an exit from the longest recession on record, and a gauge of manufacturing climbed to a record in May. Regional elections on Sunday showed strengthening support for the prime minister.
The rally is making Italian shares more expensive, and the economic recovery remains fragile, according to Christian Zogg at LLB Asset Management. The FTSE MIB trades at 17.6 times estimated earnings, 15 percent more than the Euro Stoxx 50.
"GDP growth is still weak, and there is still a risk they go back into recession," said Zogg, who manages the equivalent of about $10 billion in Vaduz, Liechtenstein. "It's difficult to see the same performance looking forward."
Still, investors are plowing money into Italian equities. In May, they added $42 million to the biggest exchange-traded fund tracking the shares, a fourth month of inflows in five.
"Renzi became the first prime minister in a long time to adopt changes and reforms which make the country more competitive," B Capital's Baring said. "There is a dislocation between Greece and Italy. It's a good thing."
Before it's here, it's on the Bloomberg Terminal.
LEARN MORE