Euro-Area Prices Rise in Relief for ECB After Deflation Scare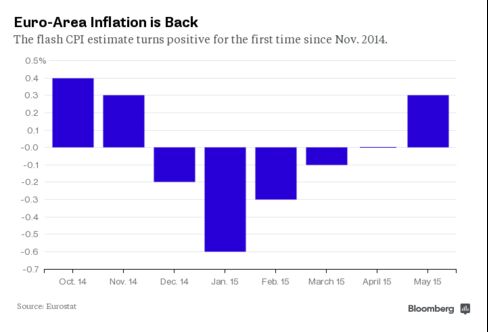 Euro-area consumer prices rose for the first time in six months in May, providing respite for European Central Bank policy makers after a deflation scare drove them to unleash a trillion-euro stimulus program.
The 0.3 percent annual increase exceeded the 0.2 percent median forecast of economists in a Bloomberg News survey. Core inflation accelerated to 0.9 percent, the fastest in nine months, the European Union's statistics office in Luxembourg said on Tuesday.
Improving inflation numbers across the euro area are largely due to a rebound in the price of oil since the beginning of the year. While the upturn may be reflected in ECB policy makers' assessment when they gather in Frankfurt this week, they'll also have to take into account that inflation still remains well below their goal of just under 2 percent.
"While this strengthening of inflation is good news, it is too early to tell whether we really have inflation lift-off," said Teunis Brosens, a senior economist at ING Bank NV in Amsterdam, citing weak selling-price expectations in surveys last month. "More data is needed to confirm the return of some healthy inflation."
The euro remained higher against the dollar after the data were published. It extended its advance on reports that creditor institutions are wrapping up a new proposal aimed at breaking a deadlock in the Greek bailout talks. The single currency traded at $1.1030 as of 12:03 p.m. London time, up 0.9 percent on the day.
ECB Goal
The ECB is in the early days of a 1.1 trillion-euro stimulus ($1.2 trillion) program that policy makers intend to run the program until at least September 2016.
The central bank's latest projections foresee an average inflation rate of zero this year, rising to 1.8 percent by 2017. ECB President Mario Draghi will update those forecasts on Wednesday after a Governing Council meeting in Frankfurt at which the Greek debt crisis is expected to dominate the agenda.
Greece's government, which is trying to secure more bailout funds, is due to make a 300 million-euro payment to the International Monetary Fund on June 5, as part of a wider 1.6 billion euros owed before the end of the month. With those payments looming, European leaders and the head of the IMF agreed to step up the intensity of talks over Greece's fate after an extraordinary late night meeting in Berlin.
Before it's here, it's on the Bloomberg Terminal.
LEARN MORE