PBOC's Failure to Lower Long Rates Leads to Own Operation Twist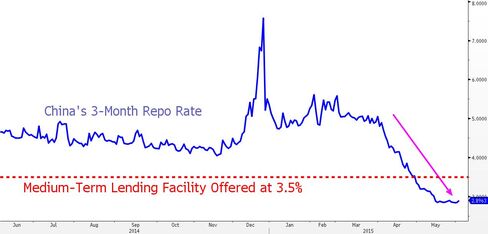 China's failure to bring down long-term borrowing costs is forcing policy makers to use special tools.
The People's Bank of China, which normally focuses on influencing seven-day borrowing costs, is now seen to be shifting its attention to lending facilities ranging from three months to five years. The yield on 10-year sovereign bonds has risen 29 basis points from April 30, even as the one-year yield plunged 70 basis points, leading to the steepest yield curve since 2010.
The PBOC is undertaking its own version of the Federal Reserve's 2011 Operation Twist to correct financial distortions and achieve its 7 percent growth target. The flood of short-term money has fueled a 141 percent rally in Shanghai stocks in the past year. Meanwhile, higher costs for mortgages and long-term loans are suppressing investment in the real economy.
"The central bank is determined to create a low-interest-rate environment and stimulate credit expansion," said Chen Kang, a Shanghai-based analyst at SWS Research Co., a unit of China's second-biggest brokerage. "The recovery of the economy has been slow, so there's an urgency to deploy more measures."
The PBOC has already reduced its benchmark one-year lending rate three times since November and lowered reserve ratios twice this year, without reviving capital spending. Fixed-asset investment grew in the first four months of 2015 at the slowest pace in almost 15 years. The PBOC didn't immediately respond to faxed questions regarding its latest actions.
Heavy Burden
The PBOC recently provided funds through a program that uses collateral for loans to some banks, according to a Reuters report Monday that didn't name its sources. China Development Bank was offered at least 1 trillion yuan ($161 billion) via the facility, the National Business Daily reported Tuesday, citing a trader it didn't identify. That compares with a rate of 4.5 percent last year, the paper said. The Pledged Supplementary Lending program usually involves tenors of three to five years, according to China Securities Co.
The central bank added 262.8 billion yuan of new funds through the program in the first five months and cut the interest rate to 3.1 percent, it said in a statement on Tuesday. It also announced that it will publish monthly PSL data in what Xinhua said was a move to improve transparency.
Loan Rates
The central bank will probably cut rates on its three-month Medium-term Lending Facility when about 670 billion yuan of the contracts come due by mid-June, said Huang Xindong, a Shanghai-based strategist at GF Securities Ltd.
The MLF was offered to policy, commercial and city banks and the total outstanding amount was more than 1 trillion yuan at the end of April, the PBOC said on May 8. The three-month repo rate has fallen 46 basis points since April-end to 2.9 percent, below the 3.5 percent that lenders paid for the MLF.
"There's a need for the PBOC to put a public stamp on its preference for low interest rates," Huang said. "The cost of the MLF is now higher than market rates, hence becoming a heavy burden on commercial banks. It makes sense for the PBOC to ease the burden by cutting."
Chinese Twist
The monetary authority is boosting the supply of financing to encourage banks to purchase long-tenor debt, after last week draining tens of billions of yuan in short-term funds by selling repurchase agreements. China Merchants Bank Co., Australia & New Zealand Banking Group Ltd. and Haitong Securities Co. said the PBOC's loan program bears similarities to Operation Twist. That's the name given to a U.S. program that involved the Fed selling short-term bonds and buying long-dated debt to flatten the yield curve.
"This could be seen as a Chinese version of Operation Twist as the central bank drained short-term liquidity, but injected liquidity via targeted long-term facility," ANZ economists including Liu Li-Gang wrote in a note on Tuesday. "While the policy stance will remain supportive, Chinese authorities are keen to improve the policy effectiveness via targeted easing."
The authority offered China Development Bank 1 trillion yuan via the PSL program last year to finance low-cost housing. At the end of March, 514.9 billion yuan had been used, according to the PBOC's first-quarter monetary policy report.
April's new yuan loans of 707.9 billion yuan fell short of all 36 estimates in a Bloomberg survey. The official Purchasing Managers' Index for manufacturing was 50.2 for May, data showed on Monday. While it indicates an expansion, the figure trailed the 50.3 median estimate in a Bloomberg survey.
"The mission of lowering overall financing costs hasn't been achieved since only the short-end rates have dropped," said Liu Dongliang, a Shanghai-based analyst at China Merchants Bank. "It's time for the central bank to focus on bringing down longer-term costs to encourage lending and bond purchases."
Before it's here, it's on the Bloomberg Terminal.
LEARN MORE