Banks Would Earn More Money If You'd Kindly Bounce More Checks
Overdraft fees just aren't what they used to be
A wise (not to mention handsome!) former mayor has been known to joke that a lifetime of astute financial planning should be capped off by bouncing the check to the undertaker.
The truth is your undertaker may get a little ticked off at this. But your bank? Maybe not so much, assuming there's enough cash left in the account to pay the charge on the bounced check.
There has been a lot of ink and pixels spilled discussing the various reasons why bank stocks are one of the few groups that never reclaimed their record highs after the financial crisis, but little attention has been paid to a phenomenon that has taken a noticeable bite out of revenue: Customers simply aren't bouncing as many checks as they did in the past, and so banks simply aren't collecting as much in service charges.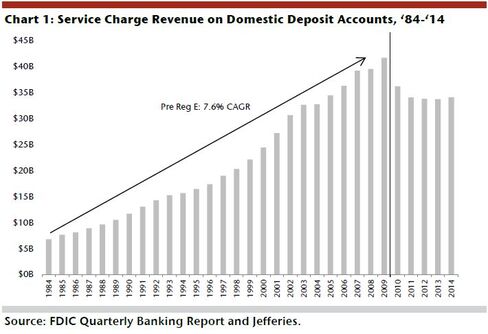 Overdraft fees that were 6 percent of banks' revenues and two-thirds of service charges in 2006 were only 2 percent of revenue and one-third of service charges in the first quarter of this year, according to analyst Ken Usdin and colleagues at Jefferies in a recent report.
The analysts cite two main catalysts for the lack of rubber checks bouncing around. One is the Federal Reserve's "Regulation E," which outlined rules and consumer protection initiatives for electronic funds transfers. The other is mobile banking, which makes it easier for customers to check balances in real time so they are better aware of when funds are running low.
So what is a poor bank to do? Raise the fees on the people who are still bouncing checks, of course! The median overdraft fee increased from $27 in 2006 to $34 in 2012, according to data from the Federal Deposit Insurance Corp. and Consumer Financial Protection Bureau cited in the report. In the most recent quarter, the median fee was $36 for the banks that the Jefferies analysts cover.

More challenges to banks' overdraft fee policies are likely coming from the CFPB, according to Jefferies. And it's not like mobile and Internet banking is some fad that's going to go away.
So if you own bank stocks, maybe you shouldn't count on this lost overdraft revenue coming back anytime soon. And if you're an undertaker, maybe you should insist on prepayments in cash.
Before it's here, it's on the Bloomberg Terminal.
LEARN MORE