Americans Scour Tehran for Assets as Iranians Open Doors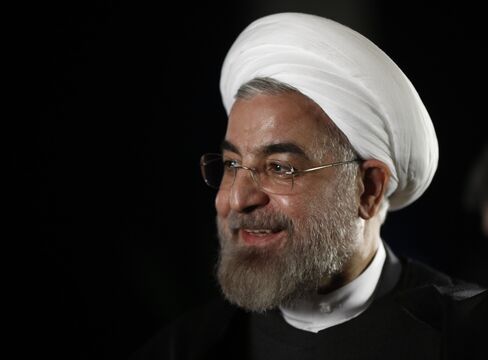 Sporting a monogrammed tie in tie-less Tehran, he could not have been mistaken for a local. As an American who remembers well the U.S. hostage crisis, he might have been forgiven some skepticism about investing in Iran.
But he has been struck, he said, by the "enormous, consistent love and admiration" toward the U.S. he has felt from Iranians and the "good deals" and "nice jewels" to be scooped up on financial markets long off the radar of the world's money managers.
He was one of about 20 foreigners brought to Tehran for a tour last month by Turquoise Partners, a local firm which asked that the visitors' names not be published for fear that competitors might swipe clients and because international sanctions remain in place.
The visit is one element in a rapidly shifting business landscape in Iran as investors prepare for a lifting of the sanctions if a nuclear deal is signed in coming months between Iranian President Hassan Rouhani and world powers.
Rouhani's election in 2013 on a reformist platform had already brought "a huge change of interest in Iran," said Rouzbeh Pirouz, Harvard-educated chairman of Turquoise. "Now, with the prospect of the nuclear agreement, that interest has been much, much more."
The group showed the outsiders the best-performing sectors in Iran: cement, which benefits from low energy costs; mobile telecommunications in a country of 80 million people with mobile phone penetration of 105 percent; and food and beverages, in which one firm, Behshahr Industrial Development Corp., quadrupled its profits over the past two years.
Sizable Market
The visitors, including four Americans based outside the U.S., were exploring, not signing, deals so no sanctions rules were violated. And while impressed, several expressed concerns about getting money out of Iran, the skills of the local workforce and the limited banking facilities for foreigners.
The market is sizable. Stock market capitalization in Iran stands at $96.6 billion. Banking assets are $482 billion, exceeding Shariah-compliant assets in Saudi Arabia, Malaysia and the United Arab Emirates combined.
Across Tehran's commercial districts, companies are working to win back lost international clients and restart projects abandoned when sanctions kicked in. Iranians abroad are setting themselves up as sherpas and holding conferences to match investors with domestic entrepreneurs.
In Geneva, preparations are under way for the second Europe-Iran Forum organized by Esfandyar Batmanghelidj, an American-Iranian, and his father after the event attracted companies such as Airbus, Cisco, Total and Citigroup last year.
"It's about being in the middle of D.C., London, Tehran and Dubai and having the ability to act as a platform," Batmanghelidj, who visited Iran for the first time in 2013, said in a phone interview from the Alps.
E-Commerce
In Berlin this week a meeting dubbed iBridges will bring together 400 Iranian tech and e-commerce companies with investors from 45 countries, Salamander Davoudi, the conference's spokeswoman, said by e-mail.
In Tehran, a few blocks away from Turquoise's offices, Novin Investment Bank, with 600 million euros of assets under management, is in talks with a number of German banks to start a modest mutual fund of 25 million euros.
"In the next three to four months we will get somewhere with that fund," Massoud Gholampour, an analyst at Novin, said. "The talks have been very positive."
Gholampour said that the prospect of a nuclear deal spurred Novin to plan a 200 to 300 million euro bond issue. He expects the mechanics to be finalized in the next two months provided they secure an international ratings agency and a European bank to help underwrite the bond and act as a clearing house.
Family Holdings
Hashem Arouzi, former managing director and founding partner of Gottex, a hedge fund, is visiting Tehran in a bid to reclaim family holdings confiscated when the Shah was ousted in 1979 as well as scout opportunities in the city's property market.
"I don't necessarily see a huge wall of people coming back to Iran, but I definitely see more and more people interested in Iran," Arouzi, who is also a co-founder of Turquoise, said on the sidelines of the investor tour.
Arouzi said he was building up a portfolio of investments "in the seven figures."
The toll of U.S. and EU sanctions has been felt by companies across Iran's economy. Only the country's super-rich, those who profited from a plunge in the rial or off-the-books oil deals have been unaffected.
Recovery
By 2012, Iran's economy had contracted by 6.8 percent. The following year, on the eve of the elections that brought in Rouhani, inflation stood at 40 percent. The Iranian rial lost more than two thirds of its value, and the country's income from its biggest export -- crude oil -- was slashed by 50 percent after energy sales to the European Union were halted.
Modest signs of a recovery have started to appear. Officials say inflation is down to 15 percent, and the economy may grow as much as 3 percent this year. The central bank expects the lifting of sanctions to allow the transfer home of $100 billion of Iranian funds frozen in overseas accounts, the official Islamic Republic News Agency reported May 31.
In January, Turquoise introduced Iran's first index-linked exchange-traded fund to the Tehran Stock Exchange with a net asset value of $4 million. So far it has three foreign investors, at least one of whom was on the tour, and has climbed 4.2 percent since it was launched, according to Radman Rabii, vice president for international clients at the company's brokerage arm.
Stock Exchange
At the modest, somewhat dowdy Tehran Stock Exchange, the visitors were shown the trading floor, where brokers -- most of them young men and women -- execute trades by phone and online, from behind rows of felt-lined cubicles.
Iranian retail investors, many of them pensioners keeping an eye on their retirement funds, gazed down on the sharp-suited outsiders from a viewing gallery above as they posed for photos beneath the exchange's main digital display of the day's leading stocks.
"This is what it's all about," one of the visitors, a London-based woman, said. "This is what an emerging frontier market looks like."
(An earlier version corrected the size and scope of the Iran's banking assets.)
Before it's here, it's on the Bloomberg Terminal.
LEARN MORE