Abu Dhabi Wealth Fund Leans Less on Outside Fund Managers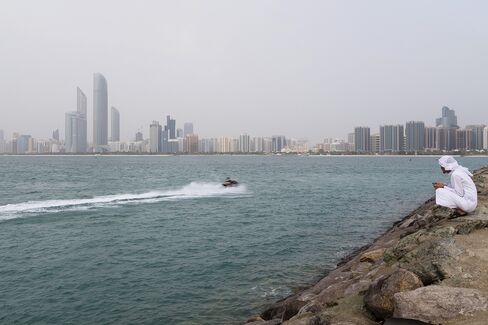 The chance for fund managers to help Abu Dhabi invest its oil fortune is getting slimmer by the year.
Abu Dhabi Investment Authority, one of the world's biggest sovereign wealth funds, said about 65 percent of its assets were managed by external fund managers last year, compared with 75 percent in 2013, according to its annual report. In 2011, outside investors managed about 80 percent of the fund's assets.
Abu Dhabi, capital of the United Arab Emirates and home to about 6 percent of the world's proven oil reserves, is seeking to diversify from crude exports with investments abroad. The sovereign wealth fund has posted gains of 7.4 percent annually over the past 20 years and is boosting in-house teams in areas such as real estate and private equity to increase returns.
The fund continues to hire. In September 2014, ADIA said it appointed Brian Tipple as its first global head of external equities, followed last month by the hiring of John Pandtle to the newly created position of head of U.S. equities. In addition to the new mandate for U.S. equities, the fund also last year introduced a so-called high conviction mandate, an approach that seeks to acquire larger stakes in fewer equities.
While ADIA Managing Director Sheikh Hamed bin Zayed Al Nahyan wrote in the report that the fund would continue hiring in 2015, he said the drive to strengthen internal capabilities was close to completion. Last year also saw the appointment of former BP Plc chief economist Christof Ruehl as the fund's first global head of research.
Investing Assets
ADIA, which has employees from about 60 nationalities, seeks to invest between 35 percent and 50 percent of its assets in the U.S., with a further 15 percent to 25 percent targeted for emerging markets. The fund expects to have 20 percent to 35 percent of its portfolio in Europe, with the remainder invested in so-called developed Asian markets. About 55 percent of its assets are invested in index-replicating strategies.
The fund ranks second behind Norway as the largest in the world at $773 billion and ahead of Saudi Arabia's $757 billion fund in third position, according to the Sovereign Wealth Fund institute. ADIA itself doesn't disclose assets under management. The fund has been investing the emirate's oil wealth since 1976 and withdrawals "have occurred infrequently and usually during periods of extreme or prolonged weakness in commodity prices," according to the report.
ADIA said it received approval from China's market regulator to increase its Chinese equities allocation to $1.5 billion under the Qualified Foreign Institutional Investor program, up from $1 billion a year earlier.
The fund said that a stronger dollar, lower bond yields and steady equity prices "should work in the direction of improving economic outcomes."
Before it's here, it's on the Bloomberg Terminal.
LEARN MORE