Toshiba Rises After Extending Deadline for Earnings Release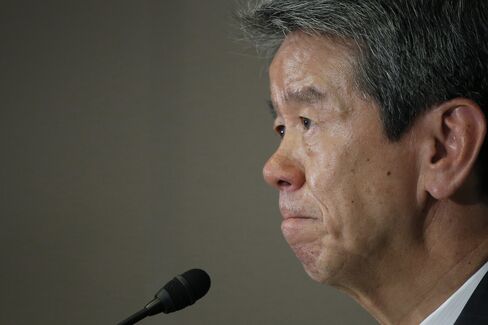 Toshiba Corp. rose to the highest in more than three weeks after gaining approval to delay its earnings release and setting a date for its annual shareholder meeting, steps that may help avoid a delisting.
The shares rose 3.3 percent to 450 yen in Tokyo, the highest since May 8, when the company withdrew its earnings forecasts.
President Hisao Tanaka will return 50 percent of his pay and the company will not renew its poison-pill takeover defense plan at the shareholder meeting, Toshiba said Friday after the Tokyo market closed. The industrial and electronics group withdrew forecasts and canceled the year-end dividend citing irregularities related to "percentage of completion" estimates used on infrastructure projects.
"Toshiba is being bought because the company is thought to escape from delisting," Tsunenori Ohmaki, an analyst at Tachibana Securities Co. in Tokyo, said by phone.
Companies can be delisted for failing to lodge earnings reports or placing "unreasonable restrictions" on the rights of shareholders, the Japan Exchange Group said on its Website.
Toshiba, which makes memory chips and personal computers, has said it's examining accounting at units for nuclear, hydroelectric and wind power equipment, air-traffic control and railway systems. The company is also investigating its visual products, PC and chip businesses.
The accounting method can lead to small adjustments, and it has also been behind scandals at companies including Japan's IHI Corp., where the chairman resigned and the company paid a then-record regulatory fine.
Toshiba had previously projected operating income of 330 billion yen on sales of 6.7 trillion yen in the year ended March. The estimate of a 50 billion-yen reduction in profit applies to the three fiscal years ending in March 2014. The company gave no estimate for the year ended this March.
Before it's here, it's on the Bloomberg Terminal.
LEARN MORE