Soaring Cost, Toxic Effects Drive Race for Cancer Tests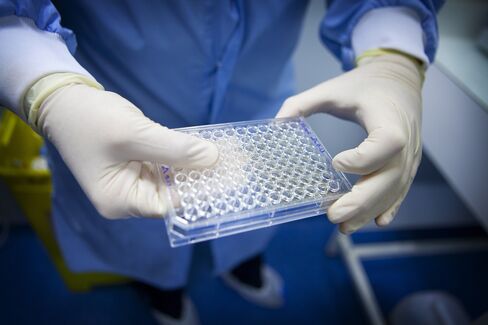 The burgeoning field of cancer immunotherapy is showing great promise with previously hard-to-treat forms of the disease. Now comes the next hurdle: figuring out which patients best respond to the drugs.
At stake is billions of dollars in potential revenue for companies including AstraZeneca Plc, Roche Holding AG, Bristol-Myers Squibb Co. and Merck & Co. The drugmakers are racing to develop medications that harness the body's own immune system to fight various forms of cancer.
The drugs show the most pronounced responses in patients whose tumors have high levels of a protein known as PD-L1. But each company is currently using its own, slightly different test of PD-L1 levels in patient trials, making it hard to compare one drug against the other.
And none of the tests is good enough yet to rule out patients who won't respond to the drugs, creating a conundrum about how to use them, according to experts at the annual American Society of Clinical Oncology meeting, which started Friday in Chicago and continues Monday.
The lack of a standard test for telling who should get the new drugs "is one of the big problems" in the immune therapy field, said Richard Pazdur, the top cancer drug official at the U.S. Food and Drug Administration.
Merck and Bristol-Myers are working with Dako, a division of Agilent Technologies Inc., on two different tests. Roche and AstraZeneca are collaborating with Ventana Medical Systems Inc., a division of Roche, on their separate diagnostics.
Share Performance
Roche, whose drug MPDL3280A doubled the survival rate of lung cancer patients in trial data presented in Chicago, rose 2.4 percent to 282.80 Swiss francs as of 10:09 a.m. in Zurich. Astra, whose PD-L1 inhibitor MEDI4736 reduced lung tumors in 27 percent of patients in an early-stage trial, climbed 1.9 percent in London.
Amid the successes with experimental medicines, the FDA is trying to push companies to work together on tests, though it has no authority to force them to, Pazdur said.
Devising reliable tests is crucial because the drugs are very expensive, with two of the first to hit the market -- Opdivo from Bristol-Myers and Keytruda from Merck -- costing about $150,000 a year. And because immune drugs are associated with side effects ranging from lung inflammation and hepatitis to rash and diarrhea, doctors don't want to use them on patients who aren't going to be helped.
"It's clear it's going to be able to identify people who have huge benefits, and people who have small benefits," said Briggs Morrison, chief medical officer at AstraZeneca. Yet drug companies "are definitely not there yet" in devising a standard test that all patients can use.
To perform tests for PD-L1 proteins, doctors sometimes rely on tumor samples that may be months or years old. Amounts of PD-L1 may vary from one part of the tumor to another. And the tests don't look at whether there are any immune cells nearby that are ready to attack the tumor with the drugs' help.
Combination Drugs
Older, more established cancer treatments, such as Roche's blockbuster breast cancer drug Herceptin, come with tests to identify the minority of patients who are most likely to benefit from them.
The need for a similar test for the immune therapy drugs is becoming even more important as companies seek to combine new therapies for greater effectiveness -- increasing both side effects and price.
In one study highlighted at the ASCO meeting, two Bristol-Myers melanoma drugs, Opdivo and Yervoy, delayed progression of the disease for months more than either drug did alone. But the combination was far more toxic.
Also, the cocktail will cost about $295,000 for an average-weight patient in just under a year, according to estimates presented at the conference by Leonard Saltz, an oncologist at Memorial Sloan Kettering Cancer Center, who has long expressed concern that cancer drugs are too costly. If similarly priced combinations were given to every American with advanced cancer, it would cost the country $174 billion a year, Saltz said at the meeting.
This prospect isn't as far-fetched as it may sound. Immune drugs have shown promise in a wide array of tumors, including lung cancer, kidney cancer, liver tumors, bladder cancer, head and neck tumors, and even some forms of colon cancer.
Bristol-Myers declined to confirm a price for the combination.
Lone Test
While PD-L1 has flaws as a measure of drugs' effectiveness, "it's the only real one out there right now," said Asthika Goonewardene, an analyst at Bloomberg Intelligence. That makes it useful for drug companies seeking to show cancer doctors why they should use one treatment over another, Goonewardene said.
"Roche and Merck will be cramming this down doctors' throats using it as a tool to differentiate their drugs" from Bristol-Myers' Opdivo, he said. Opdivo was first to reach the market for lung cancer, likely to be the single biggest market for these drugs.
And even if the tests are imperfect, insurers may use them to decide who gets coverage.
"Payers around the world and in the U.S. -- they're very interested in making sure they're only going to treat patients who have the potential to benefit," said Daniel O'Day, chief operating officer for Roche's pharmaceutical unit.
Before it's here, it's on the Bloomberg Terminal.
LEARN MORE