Serena Williams May Surpass Graf's Record, Former Champion Says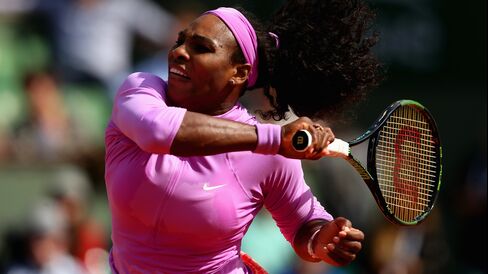 Serena Williams may surpass Steffi Graf's haul of 22 major tennis titles to become the most successful player in the Open era, former French Open champion Arantxa Sanchez Vicario said.
Williams, 33, kept her quest for a 20th Grand Slam alive in a 1-6, 7-5, 6-3 victory over fellow American Sloane Stephens. Graf won 22 Grand Slam singles championships between 1987 and 1999, the most since tennis turned professional in 1968.
"I would not be surprised if she will pass Steffi," Sanchez Vicario in an interview at Roland Garros Monday. "She's the most dominating player on the tour. She's a very competitive woman, and she's still around because she wants to do it."
The Spaniard won four majors in the 1990s, when Germany's Graf dominated women's tennis. Sanchez Vicario surprised Graf in the 1989 French Open final as a 17-year-old and went on to win the title in 1994 and 1998, as well as the 1994 U.S Open.
Williams must remain injury-free to keep winning, said Sanchez Vicario, who was named ambassador for this year's season-ending BNP Paribas WTA Finals in Singapore for the top eight players.
"She has to manage to be healthy and always 100 percent," the 43-year-old mother of two said.
Williams pulled out of Rome three weeks ago because of an elbow injury and has struggled with her serve at the French Open, dropping the first set in the past three matches.
"I just kept fighting," the top seed said after beating Stephens. "I started to serve as hard as I could and that's what helped me win the match. I have to continue doing that on every single point and I'm capable of doing that."
Williams won her 19th major at the the Australian Open in January to overtake Martina Navratilova and Chris Evert with 18 Grand Slam singles titles.
The all-time record is held by Australia's Margaret Court, who won 24 majors between 1960 and 1973. The men's Grand Slam record holder is Roger Federer, with 17 majors.
Before it's here, it's on the Bloomberg Terminal.
LEARN MORE