Rangers' Zuccarello Was Unable to Speak After Fracturing Skull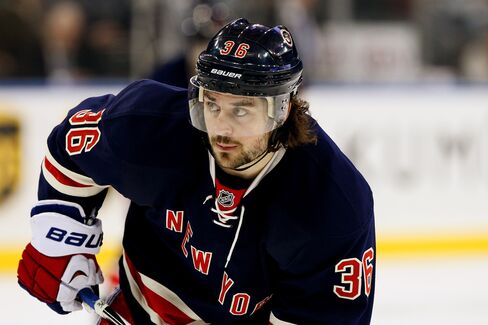 New York Rangers right wing Mats Zuccarello suffered a brain contusion when he was hit in the head with a puck on April 24, leaving him unable to speak and forcing him to miss the remainder of the National Hockey League playoffs, the team said.
Zuccarello, the team's fifth-leading scorer during the regular season, told reporters today that he lost the ability to talk for four days after being struck in New York's 2-1 first round series-clinching win over Pittsburgh, the team said on Twitter. He needed speech therapy and isn't fully recovered, he said.
"I was in the hospital for three days," Zuccarello told reporters, according to the New York Daily News. "I couldn't talk for a while. I had a contusion, some blood in my brain. That affects a lot. I went to speech therapy. I'm getting much better. I couldn't say a word for four days. I feel much better and I'm getting better and better."
The 27-year-old forward is expected to make a full recovery and be able to return for training camp, the team said on Twitter.
The Rangers were eliminated from the playoffs by Tampa Bay, losing Game 7 of the Eastern Conference Finals 2-0 on May 29.
Before it's here, it's on the Bloomberg Terminal.
LEARN MORE