Crude Jumps to Six-Month High as U.S. Inventories Seen Falling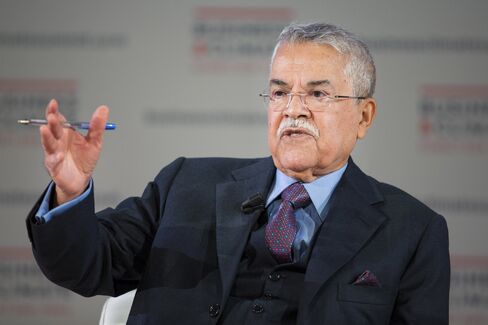 Oil surged to a six-month high in New York on speculation U.S. inventories posted their longest stretch of declines since August, while the dollar weakened.
Saudi Arabia said its efforts to focus on market share are working, bolstering speculation that OPEC will maintain its production target at this week's meeting.
Oil's 40 percent rebound from a six-year low is supporting the strategy of the Organization of Petroleum Exporting Countries to keep pumping into a global glut. The group, which supplies about 40 percent of the world's oil, will keep its quota unchanged at 30 million barrels a day, according to all but one of 34 traders and analysts in a Bloomberg survey.
"We are drawing inventories pretty strongly each week and that probably will continue," said Bill O'Grady, chief market strategist at Confluence Investment Management in St. Louis, which oversees $3.4 billion. "Oil is rising and some of this is being driven by dollar weakness."
West Texas Intermediate for July delivery gained $1.06, or 1.8 percent, to end at $61.26 a barrel on the New York Mercantile Exchange, the highest settlement since Dec. 9.
Brent for July settlement rose 61 cents to $65.49 a barrel on the London-based ICE Futures Europe exchange. The European benchmark ended at a premium of $4.23 to WTI, the U.S. marker grade.
Dollar Index
The U.S. Dollar Index dropped as much as 1.8 percent. A weaker dollar increases oil's investment appeal.
U.S. crude inventories probably shrank by 2.5 million barrels in the week ended May 29, a Bloomberg survey showed before an Energy Information Administration report Wednesday. Stockpiles fell the previous four weeks.
"It doesn't seem likely we are going to get any bullish news out of the OPEC meeting," said Michael Lynch, president of Strategic Energy & Economic Research in Winchester, Massachusetts. "People have already factored into the price the potential for no action by OPEC."
Inventories rose 1.8 million barrels last week, the American Petroleum Institute reported, according to ForexLive.
Demand is picking up and supply is slowing, Saudi Arabia's Oil Minister Ali al-Naimi said as he arrived in Vienna for the June 5 meeting.
"Demand in the second half of the year will be better than now," al-Naimi said. The minister declined to indicate his preferred price range and said he didn't know if OPEC would agree to maintain its output target.
OPEC Strategy
Saudi Arabia shaped OPEC's strategy at its last meeting in November, arguing that the usual response of cutting oil production to support prices wouldn't address the threat from higher-cost producers such as U.S. shale. The group's 12 members pumped 31.58 million barrels a day in May, exceeding their collective target for a 12th consecutive month, data compiled by Bloomberg showed.
"From the Saudis' perspective, they feel like they've been vindicated because prices are recovering and they are getting more market share," said O'Grady.
Analysts at JBC Energy GmbH and Petromatrix GmbH echoed comments from Morgan Stanley that OPEC may raise its output target closer to actual production.
The right price for crude is $70 to $80 a barrel, Jose Maria Botelho de Vasconcelos, Angola's minister of petroleum, told reporters in Vienna Tuesday.
Before it's here, it's on the Bloomberg Terminal.
LEARN MORE