Jeffrey Spetalnick, Who Joined KBW After 9/11 Losses, Dies at 48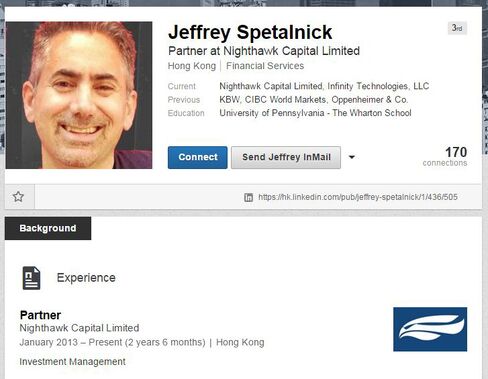 By Stephen Miller
(Bloomberg) Jeffrey Spetalnick, who as an equity analyst in 2001 joined the rebuilding effort at Keefe, Bruyette & Woods Inc. after the Sept. 11 attack on the World Trade Center, has died. He was 48.
He died on May 26 at Calvary Hospital in the Bronx, New York, according to his sister, Abby Siegel. The cause was Ewing's sarcoma, a rare bone cancer.
Since January 2013, Spetalnick was a principal at Nighthawk Capital, a Hong Kong-based hedge fund company focusing on financial services investments.
In October 2001, with about a decade of experience as an equity analyst, he was hired as director of quantitative research at KBW, a boutique investment bank that specializes in the banking industry. On Sept. 11, the firm lost 67 employees in New York's World Trade Center, where the company's headquarters were located on the 88th and 89th floors of the South Tower.
"He was instrumental in helping me in rebuilding the research department after the horrific losses," Michael Corasaniti, then KBW's director of research, said in an e-mail. Spetalnick worked at the company until 2006.
A person of multiple talents, in 2008, he founded Infinity Technologies, a New York-based company that builds predictive text programs and other tools for e-mail, texting and data entry. Spetalnick was chief executive officer and held several patents.
Educators' Son
Jeffrey Robert Spetalnick was born on Oct. 3, 1966, in Queens, New York, to Victor Spetalnick and his wife, the former Barbara Jupiter. His parents worked in New York City high schools, his father as an administrator and his mother as a guidance counselor.
In 1988, Spetalnick earned a Bachelor of Science degree in economics from the University of Pennsylvania's Wharton School in Philadelphia.
He joined New York-based Oppenheimer & Co. in 1990 as a senior vice president for equity research, specializing in the chemicals industry. In 1997, the Wall Street Journal included him among its All-Star chemicals analysts. Spetalnick ranked as the No. 2 stock picker, achieving a 43 percent return compared with a median 16 percent gain for chemical-industry analysts.
That year he moved to CIBC World Markets Inc. as executive director of equity research, according to a profile on LinkedIn.com. He worked in New York for the Toronto-based firm until 1999.
Spetalnick was known for his kindness toward strangers, which showed itself in eccentric ways. While at Oppenheimer, he befriended a Pakistani taxi driver who often ferried him to work. Over time, the analyst helped finance a new cab for the driver, attended his wedding and helped him gain U.S. citizenship.
"He was a very out-of-the-box thinker," Siegel said of her brother in a telephone interview. "Very generous."
In addition to his sister, Spetalnick's survivors include his parents.
Before it's here, it's on the Bloomberg Terminal.
LEARN MORE