Italy's Renzi Wins Local-Vote Majority, Has Liguria Setback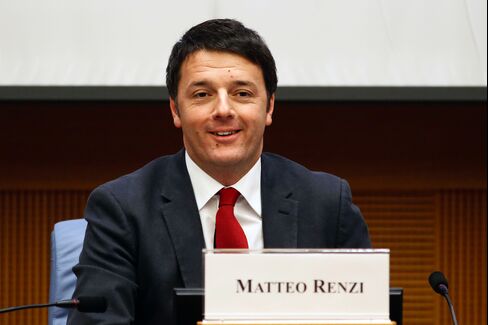 Italian Prime Minister Matteo Renzi held on to five out of seven regions that had local elections on Sunday, snatching the Campania region away from rivals while suffering an upset in Liguria.
"Renzi comes out strengthened from this vote because his internal opposition failed to topple him and made a very poor showing," said Federigo Argentieri, a political science professor at John Cabot University in Rome. "He can now tell them to be loyal or leave because they caused the one big loss."
The premier's Democratic Party managed to stay in power in Tuscany, Umbria, Marche and Puglia, won Campania and lost Liguria along the northwestern coast, according to almost complete vote tallies from the Interior Ministry. He was unable to take the Veneto region away from long-entrenched Northern League Governor Luca Zaia. Turnout on Sunday was about 54 percent over a long holiday weekend. Italy has a total of 20 regions.
Renzi, 40, came to power in February 2014 without winning a national election and he has been seeking to bolster grassroots support for his reform agenda. His current term in office is scheduled to end in 2018.
Though solid, the result was far from the 40.8 percent of the vote won by Renzi's PD party in European parliamentary elections in May 2014.
Liguria Upset
The upset in Liguria, long a left-wing stronghold, was due to a division within the PD, with a rebellious faction backing another candidate, thus draining votes from Renzi's choice and handing the region to a united populist front that included the anti-establishment Northern League.
"Factional politics cannot prevail over those of the party," Renzi was quoted as saying in Corriere della Sera. "I will accelerate government action and consolidate the party."
Within the opposition, the main winner is the anti-immigrant, eurosceptic Northern League led by Matteo Salvini which won Veneto, played a key role in Liguria and came in second in Tuscany, another historically left-wing region. In five out of the seven regions that voted, Salvini's party performed better than former Premier Silvio Berlusconi's Forza Italia.
"We're the true right-wing alternative to Renzi," Salvini told newspaper La Repubblica in an interview.
The anti-establishment, anti-euro Five Star Movement led by comedian Beppe Grillo consolidated its status winning over 20 percent of the vote in Liguria and Marche, near that in Puglia, and hovering around 15 percent of the vote in the four remaining regions. Five Star picked up support from voters sympathetic to the various populist groups that have been making gains in Europe.
Before it's here, it's on the Bloomberg Terminal.
LEARN MORE