Hayes Admitted to 'Price Fixing' With Gollum in Libor Rig Scheme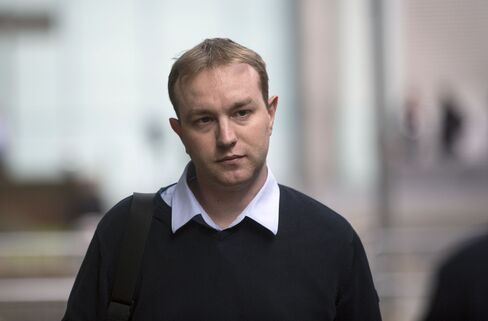 Former UBS Group AG trader Thomas Hayes told prosecutors two years ago that his attempts to rig benchmark interest rates amounted to "price fixing."
"There was one occasion where there was a very deliberate attempt by me and a guy at" Deutsche Bank AG, to coordinate strategies, Hayes said in a 2013 recording played to a London jury Monday. "We agreed to keep our Libors high and then low. That is basically price fixing, as the U.S. like to call it."
Hayes, 35, is accused of eight counts of conspiracy to manipulate the London interbank offered rate, the benchmark used to value more than $350 trillion of loans and securities, from 2006 through September 2010. The former trader, who worked at banks including UBS and Citigroup Inc., has pleaded not guilty.
In a series of instant messages and a phone call in 2009, Hayes had agreed with Deutsche Bank's Guillaume Adolph, who he called "Gollum," in conversations with his brokers, to align trading positions and move their respective bank's Libor rates, prosecutor Mukul Chawla said at the start of the second week of the trial.
"I knew I was operating a in a gray area," Hayes said in the 2013 interview with the Serious Fraud Office. "With the Guillaume thing" Hayes said he "blatantly knew that I shouldn't have done that."
Before it's here, it's on the Bloomberg Terminal.
LEARN MORE