Europe's Top Oil Producers Unite in Push on Climate Policy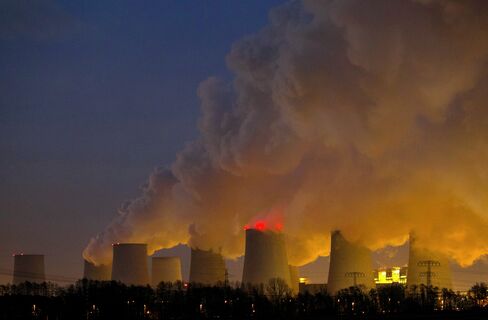 The heads of Europe's largest oil and gas companies have joined together for the first time to call for governments to agree to carbon pricing at a United Nations-led summit on climate change at the end of the year.
"Climate change is a critical challenge for our world," the chief executive officers of six energy companies wrote to the top UN official in charge of climate talks. "We need governments across the world to provide us with clear, stable, long-term ambitious policy frameworks."
The banding together on climate-change policy by BP Plc, Eni SpA, Royal Dutch Shell Plc, Total SA and BG Group Plc is unprecedented and follows comments by some of their CEOs in recent months calling for the industry to be part of the debate on a deal limiting greenhouse gases. It also opens a trans-Atlantic schism as the top American companies, Exxon Mobil Corp. and Chevron Corp., decided to stay out of the European initiative.
Exxon Mobil CEO Rex Tillerson last week said he doesn't intend to "fake it" on climate change, while Chevron CEO John Watson said the company would not join the European initiative. "We think we can make our statements, and our statements speak for themselves," he told shareholders last week.
The split resembles another industry schism in 1997-98 when BP and Shell broke ranks with their American oil counterparts leaving the Global Climate Coalition, at that point the U.S. industry's foremost lobbying group in fighting efforts to limit the use of fossil fuels.
Carbon Pricing
The letter to Christiana Figueres, the executive secretary of the UN climate change body, and Laurent Fabius, the French foreign minister, promotes natural gas as the least-polluting of fossil fuels, in opposition to coal, and coincides with the start of the World Gas Conference in Paris this week.
"We write to highlight the major role natural gas can play in addressing climate change," the CEOs wrote in a separate letter published in the Financial Times.
The main lobby group for the coal industry responded immediately, saying that for "many countries, the reality is that the only way they can meet their growing energy needs is through affordable, readily available coal."
The World Coal Association added in its statement that "cleaner coal technologies" were vital to reduce carbon emissions.
The push by Europe's oil companies comes as efforts to reduce fossil-fuel investments and spur renewables such as solar have gathered pace in the past two years with oil companies sitting largely outside the debate. The European firms are more sensitive to environmental issues because governments in the region are leading the way on climate and voters are demanding action.
Public Schism
Carbon pricing was the main theme of a meeting last month - - also in Paris -- of business leaders on climate change during which CEOs from the banking, insurance and consumer products industries as well as energy called for a cost to be placed on carbon emissions as an incentive for companies.
Despite the public schism between U.S. and European energy groups, emissions data released through the Carbon Disclosure Project show little difference between both sides. All have reduced pollution "slightly" since 2011, with BP in the lead mainly because of asset sales needed to pay $40 billion in costs associated with the Gulf of Mexico disaster in 2010.
Total will produce more natural gas than oil in the future compared with a 50-50 ratio currently, the company said in a presentation Monday. It's aiming for production of more than 30 million tons a year of liquefied natural gas in 2020 compared with less than 20 million tons in 2015.
The letter could provide the European oil groups with alternative arguments to counter the divestment campaign, which has persuaded institutions such as the Rockefeller Brothers Fund and Stanford University to scrap fossil fuel investments. French insurer Axa SA and Norway's sovereign wealth fund, two of the world's most influential institutional investors, have also announced they will reduce their investments in coal mining and coal power plants.