Buffett Auction Draws $1 Million Bid, Exceeding 2014 Pace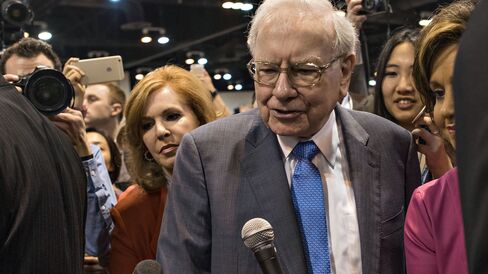 Warren Buffett's annual lunch auction drew a top offer of more than $1 million in the charity event's first full day, exceeding the pace of last year's bidding.
The annual charity event, now in its 16th year, started Sunday evening and concludes Friday. The highest offer was $1,000,100 as of 10:46 a.m. Monday in San Francisco, according to Ebay Inc.'s website. That compares with a leading bid of less than $400,000 as of 3 p.m. on the Monday of last year's event. Competition typically accelerates on the last night.
Buffett, 84, has raised $17.8 million for San Francisco's Glide Foundation by offering admirers an avenue to get face time with him. Glide, which offers free meals, affordable housing and counseling for the poor, is led by the Rev. Cecil Williams, 85.
"This man is a hero of mine and for a very good reason," Buffett said in a video posted on the event's website. "Nobody that's had their money go to Glide has ever felt shortchanged. They get their money's worth."
Glide is run out of a church in San Francisco's Tenderloin district with an annual budget of about $16 million. Williams has been there since 1963. Among Glide's volunteers was Buffett's first wife, Susan, who conceived of the event. She died in 2004.
Buffett, the chairman and chief executive officer of Berkshire Hathaway Inc., has pledged almost all of his $70 billion fortune to charity. He dines with the auction's winner and as many as seven of the top bidder's friends at the Smith & Wollensky steakhouse in New York.
Past winners include hedge-fund manager David Einhorn and Ted Weschler, who was hired by Buffett after making two record-setting bids. The $3.46 million record was set by an anonymous bidder in 2012, and the winning bid last year was for $2.17 million. In 2013, the top bid was for about $1 million.
(A previous version was corrected to add the proper figure for last year's top bid.)
Glide Lunch With Warren Buffett Results:
Year   Winner                                    Winning Bid
2000 Anonymous                                      $25,000
2001 Anonymous                                      $18,000
2002 Anonymous                                      $25,000
2003 David Einhorn, Greenlight Capital             $250,100
2004 Jason Choo, Singapore                         $202,100
2005 Anonymous                                     $351,100
2006 Yongping Duan, California                     $620,100
2007 Mohnish Pabrai, Guy Spier, Harina Kapoor      $650,100
2008 Zhao Danyang, Pure Heart Asset Management   $2,110,100
2009 Salida Capital, Canada                      $1,680,300
2010 Ted Weschler                                $2,626,311
2011 Ted Weschler                                $2,626,411
2012 Anonymous                                   $3,456,789
2013 Anonymous                                   $1,000,100
2014 Andy Chua, Singapore                        $2,166,766
Before it's here, it's on the Bloomberg Terminal.
LEARN MORE