Bondholders Fear Vodafone May Heed Risk-Loving Malone's Advice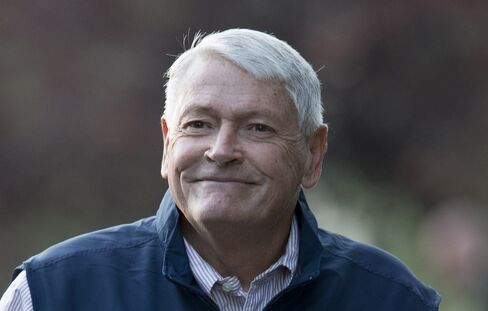 Billionaire John Malone says Vodafone Group Plc doesn't take enough risks with its cash. Bondholders are afraid the company will listen.
While Vodafone shares have soared to a 14-year high since the Liberty Global Plc chairman said on May 19 the two companies would be a "great fit," the debt market has been less impressed. Vodafone sterling-denominated bonds have lost 2 percent, the worst performer among the top 50 issuers.
The reason for anxiety is that an attempt by Vodafone to buy Liberty would probably need to be part-funded by debt and could endanger its investment-grade credit rating. According to RBC Capital Markets, the prospect of a highly leveraged Liberty acquiring Vodafone is also unpalatable.
"Even if it's just a 20 percent chance of it happening, I don't want to own the bonds," Roger Appleyard, head of European credit research at RBC in London, said in an interview.
The risks facing Vodafone were underlined last week when Standard & Poor's cut the mobile operator's long-term rating to the third-lowest investment grade, saying competition in Europe and uncertain growth prospects would keep a ratio of debt to earnings above 2.5 for at least two years. The move brought S&P into line with Fitch Ratings and Moody's Investors Service.
Different View
The extra yield investors demand to hold Vodafone's dollar bond maturing in February 2023 instead of benchmark debt has risen 54 basis points to a record 176 over the past two weeks. The price of credit-default swaps insuring Vodafone bondholders against default have increased more than any other contract in the Markit iTraxx Europe Index.
"The whole Vodafone-buys-Liberty discussion has been around for years, and I think most people had taken the view that it was less likely than likely because of valuation differences," said Appleyard. "But I think that view has changed." Vodafone spokesman Adam Liversage declined to comment.
While Malone is enthusiastic about the "enormous potential synergies" between his cable group and the wireless carrier in western Europe, he also said Vodafone's more conservative commitment to relatively lower debt levels and regular dividend payments did not marry well with his own use of debt-finance to fund deals. Liberty, which owns Virgin Media in the U.K., had $44 billion in total debt as of March after a series of European acquisitions.
"Their philosophy is low leverage, low risk and high cash payout to their shareholders," Malone said of Vodafone. "I prefer to grow equity value."
Rising Debt
Not that Vodafone has been shy about borrowing. A 19 billion-pound ($29 billion) network-upgrade program, acquisitions in Spain and Germany and looming auctions for rights to the government-owned airwaves that carry wireless signals left Vodafone with 22.3 billion pounds of net debt at the end of March, up from 13.7 billion pounds a year earlier.
And if Vodafone decided to buy Liberty, it would have to find the funds to take over a cable empire with an enterprise value estimated at $91 billion in March. S&P said it could downgrade Vodafone further if it judged debt was set to climb above 3 times earnings before interest, taxes, depreciation and amortization.
So while a deal between the two could shore up their assets in crucial markets such as Germany and the U.K. and respond to a wave of European telecommunications deals, bondholders remain nervous.
"A deal could easily be forged between the two, but would likely see Vodafone's ratings drop to the cusp of investment grade," said Mark Holman, chief executive officer of TwentyFour Asset Management.
Before it's here, it's on the Bloomberg Terminal.
LEARN MORE