Two Years Into the BOJ's Bold Bet: Here's What's Happening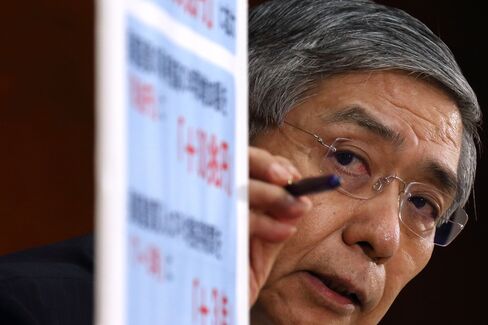 Countless words have been written on the Bank of Japan's aggressive monetary policies under Governor Haruhiko Kuroda. Just over two years since Kuroda began pumping record stimulus into the economy, here are seven charts on the results for Japan.
Japan's biggest companies are posting record profits and paying more dividends than ever, driving the share market higher.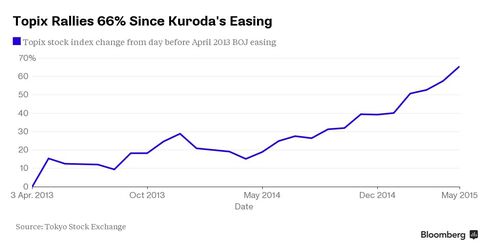 The economy has expanded, but is still smaller than its peak in 1997. It's only slowly recovering from a recession last year after Prime Minister Shinzo Abe's government increased the sales tax.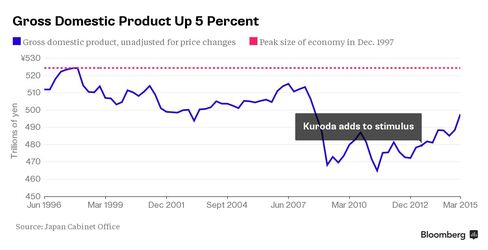 The push to stoke inflation is going nowhere, at least for now. A slump in oil snuffed out early progress in getting price gains and banishing the "deflationary mindset" that took hold in Japan after its asset-price bubble burst two decades ago. The BOJ is counting on higher wages and lower energy costs to stimulate business and ultimately, inflation.
Wages are recovering. They need to increase more to keep pace with the higher sales tax and Kuroda's plan to boost inflation to 2 percent. Like GDP, wages peaked in the 1990s.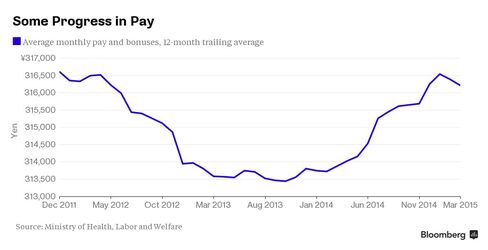 The yen's trading near a 12-year low and has dropped by a quarter since Kuroda launched his record monetary stimulus. While the decline has spurred corporate profits, it's increased import costs, squeezing consumers and small companies.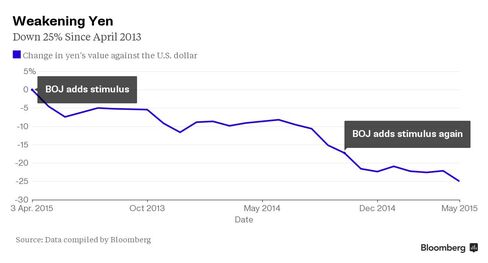 Export volumes haven't responded to the weaker yen. Many large firms have held prices and taken higher profits. Others moved manufacturing operations offshore years ago when the yen rose.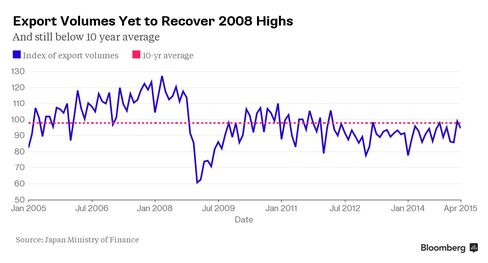 The national debt is piling up and is more than double the size of the economy. Long-term interest rates are around 0.4 percent and the BOJ stands ready to buy up every bond issued by the government.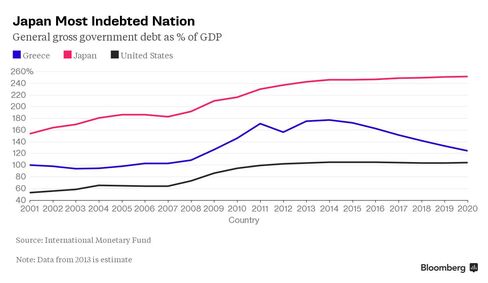 Before it's here, it's on the Bloomberg Terminal.
LEARN MORE